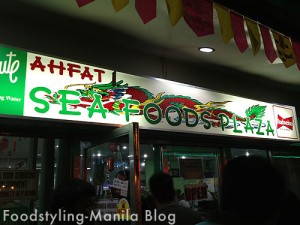 On our first night in Davao City, our friend Paul took us to their favorite Chinese restaurant – Ah Fat Seafood Plaza. The place doesn't actually look new or modern, but it was filled with people and the kitchen was so busy, I knew this was a great place to eat. They also have a lot of awards stuck to their kitchen window.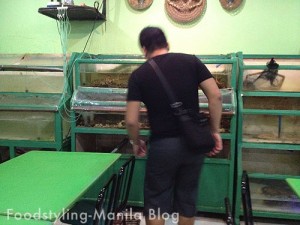 The first thing I saw were the aquariums of various kinds of live fish and shellfish that were ready to be caught and cooked. We went from an empty table to a lazy susan that couldn't even fit all the dishes we ordered. So here's what we had:
Jellyfish, Century Egg and Roast Platter – This was pretty standard fare for a Chinese restaurant. The asado was pretty good.
Green seafood soup – this was pretty okay, I'm not really into spianch. This was made of spinach most likely and has various bits of seafood and also contained sotanghon. They have a good seafood stock and there are bits of seafood in every spoonful.
Oyster cake – oysters aren't too noticeable because they are pretty tiny but the flavor is good. A mix of crunch and stickiness in the cake.  Crunchy on the outside and inside bec of the crusting and vegetables, moist soft and a bit sticky on the inside bec of the egg and oysters. Oysters used were baby oysters which added a difference in texture.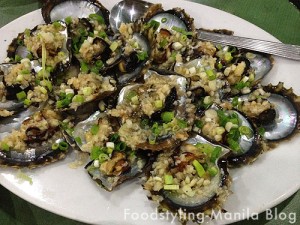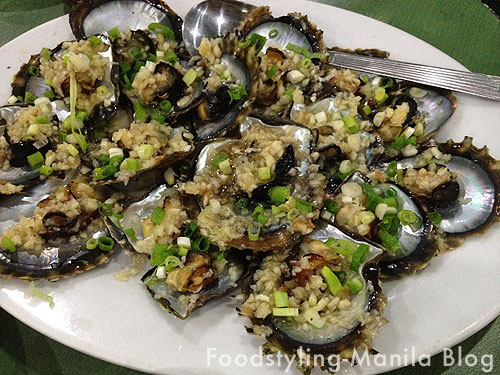 Steamed Tipay with Garlic – This was my first time to try this shellfish and it was very sweet and chewy. I loved the flavor of this shellfish. And the textures were delightful, just right, soft enough in the center to get your teeth all the way through with a gentle bite.
Salted Fish Fried Rice – pretty good with everything we ordered.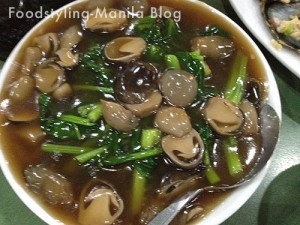 Chaysim with Straw Mushroom – the flavor of the greens were pretty wonderful, and there was just a hint of spice and bitterness from the greens.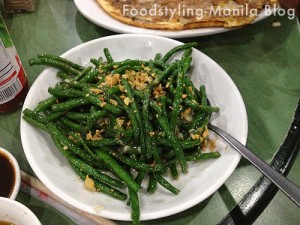 French Beans with Garlic – these were awesome. They were perfectly cooked, crisp, and flavored with a bit of garlic and maybe wine and some AA powder. It's light and sweet with a crunch in each bite. Mmmmm….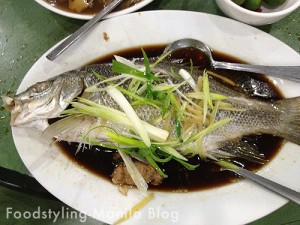 Steamed Pigik or Imelda fish – There is a great big reason why this fish is about 1000+ per kilo, it was super melt in your mouth with a  slight firmness from the fibers. Lightly flavored by the soy sauce, we still tasted the fish.
Hot Prawn Salad – The prawns were crunchy and coated in a fragrant batter which was most likely made of custard powder. The sauce made the mouth feel velvety and creamy at the same time. They used pretty good quality mayo on this thing. I loved the flavor of the prawns and the fruits at the same time.
Patatim – The meat was tender and fatty to the bone, sauce was thick and shiny. By the time that this got to the table I was really full, but this would've been better if I had more room. I only had a taste. It contained vegetables and a bit of seebut.
In the end, we were happily over stuffed with everything. And we were just at the start of our trip.