My name is Giannina Gonzalez, I am a food stylist and a classically-trained chef in Manila, Philippines who has a good background in photography and multimedia arts. I have experience in both photo and video production for food and beverage segments, how tos, recipe books, TVCs, commercial and editorial projects.
I have been working as a food stylist since 2006 and have been loving it ever since. I've worked as a food styling assistant for local and international food stylists, I have a background as a research and development chef, and am a graduate of the Communication Arts at DLSU.
I currently have a team of skilled individuals who can help your visual projects come to life.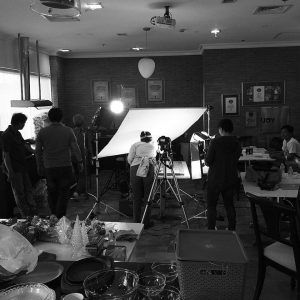 Get in touch with me: giannina@foodstyling-manila.com
I am also on IG: @giannina_g
 What else?
As far as I can remember, I have lived and breathed food because I come from a family of gourmets and lavish party hosts (which is not a bad thing at all). Being in a family of chefs (Cafe Ysabel), my daily routine has 90% food in it.
I finished my Bachelor's Degree in Communication Arts in De La Salle University Taft, where I decided to make my thesis into a food experience. I was a frustrated photographer back then, I loved portrait photography and made sure that I kept my hobby alive by converting our basement into a dark room for black and white prints. After that, I finished my Professional Culinary & Pastry Arts training at the Center for Asian Culinary Studies and flew off to the US to train under Delores Custer and Denise Vivaldo for food styling. I did a short apprenticeship with one of Australia's top food stylists, Janet Mitchell, during my trip to Sydney & Hunter Valley in 2010.
I have my own little bark-ery creating natural pet food and treats at Whole Pet Kitchen. I am also the COO at the Center for Asian Culinary Studies.
I love traveling the world and sampling out all sorts of food, especially the local fare. I spend a lot of time looking for good quality, cheap eats around the city…and when I find one, I write my experience. Aside from food, I love photography and I do it as a hobby. I love to write about food and the experience it imparts on the people who eat it. I haven't updated my blog for quite a while, for now, I've made it a bit more visual by adding photos of my works and BTS.
I set-up this blog so that I can practice more of my craft by recording my own food styling projects, aside from keeping track of all the lovely food I've been eating. This blog started in May of 2008.
Disclaimer: At the moment, I do not accept advertisements and I do not accept invites to do restaurant reviews. I think this is the best way for me to write an unbiased review for my site and its readers. My site is free to share with everyone but please ask the proper permissions prior to copying / downloading / hot linking to any of the articles or media found here. Please do not use any of the photos here, you can get in trouble should a big company who owns the copyright find it being used in your site or print materials. 
Thanks for visiting! 🙂