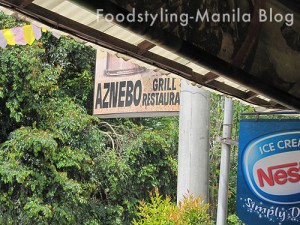 We slept over Samal island and wanted to have a nice lunch before our boating trip around the island. We took a trike and told the driver that he should take us to the best place to eat in Samal…he took us to Aznebo Bar & Grill…I guess this is where most of the locals eat since it is somewhere after the town proper. It was a 2-floor place, with an aircon function room (that was full at that time). It looked pretty local with the monoblock chairs and wooden tables, floors and railings.
It was funny though, the whole time we were there, they were playing their "restaurant's jingle" which comprised of someone singing "halina kumain kayo sa Aznebo" (come and eat in Aznebo)…or something in that general meaning…So here's what we had:
Chicharon de Aznebo – it's still warm!!! The skin is dense and bubbly and the chicharon has lots of laman. This had such a wonderful flavor, it was probably fried in semi pork fat. I don't usually like crunchy stuff, but this one was definitely to die for.
Papaitan – we were really surprised about how this came out. This was the very first time I've seen papaitan this dark and gravy like. There were lots of innard bits and it was quite gamey which was perfectly balanced out by the calamansi.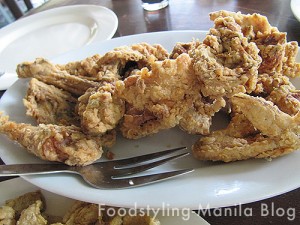 Hot and spicy "buttered" native chicken – Actually there was no butter involved here but it was actually a battered fried chicken. The meat is good, juicy but it wasn't spicy at all. They only called it that because they served it with sweet chili. Great with beer!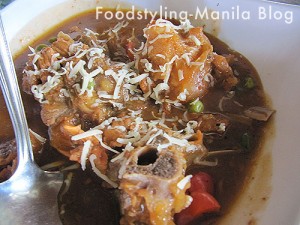 Kalderetang kambing – very sweet, tastes like it was cooked in pineapple juice with tomato sauce. It wasn't really the calderetta we expected, maybe if they called it something else, it would've been interesting. But the meat was super tender and it was served with cheese.
Salad okra – This looked really interesting for me, a person who needs some form of vegetable in every meal. It was slightly crisp, in a light local vinaigrette dressing, something I've never tried before. It was very tasty, it was also very refreshing on the palate. The textures were fantastic, I'd like to replicate this at home soon.
Salad Talong – this is a fresh version of the ones we usually have at home. Just look at the eggplant, it was so green! I love the play of textures and sourness on this salad.
Kinilaw na Kambing – tender with great skin bits, vinegar and salting is just right. Not to gamey, radish and garlic bits. Fantastic textures
Fried Isol – this is like the hot shots of chicken ass. It was crisp on the outside and juicy on the inside, with that thin layer of fat because of the part that was used.
We really liked this place. Needless to say we over ordered but we finished most of it anyway. After lunch, we took some drinks with us and visited the batcaves somewhere in Samal island. We hopped off the boat entered private property and found ourselves in the bat conservation facility.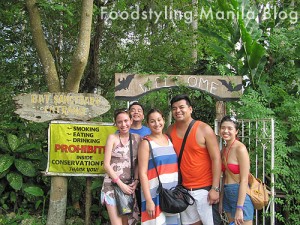 Apparently, Samal island's bat caves was awarded by the Guinness Book of World Records with the most number of fruit bats in one area…to date, there is a growing number of more than 2.5 million bats in 5 small sinkholes that lead to underground caves in the island.
The sinkholes smelled bad…but the bats were awesome. They filled up the entire wall like moss growing on a rock..you'd actually HOPE that nothing startles them because you will absolutely suffocate if all of them flew out the cave all the same time time. But it was really awesome to see that we have places like this in the Philippines!