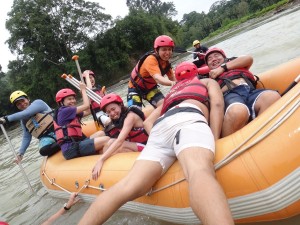 For the next days of our trip, the group was giving me some peer pressure on changing my mind about white water rafting. I'm not a big fan of the thought of getting bi%&* slapped by rocks and white water. The thought of losing a limb frightens me (even if I used to ride horses half my life, I still winced at the fact that I could hit a rock). The company who took the liberty to get us in the water was called Base Camp River Rafting, they also do other outdoor adventure type tours.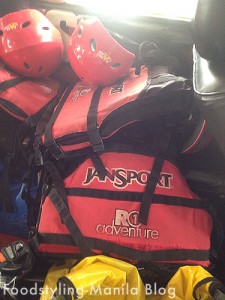 Trip to the rafting take off point was about 1.5 hours, we sat in this jeep and went deeper out of the city. Davao City is huge so even if we were pretty much in the outskirts, we were still near the city. We were then taken to this small farm lot that was right beside a small river. Our guide gave us a quick run through on safety, how to wear our gear and we were in the water in no time.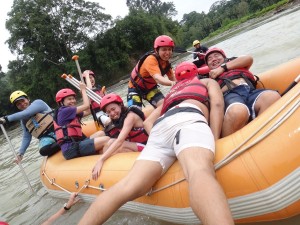 We practiced how to get people back into the boat in case someone would fly off. Ironically, I was the 7th wheel in this group, everyone was coupled, and I had a seat without the safety foot strap. So much for being the most freaked out in the group…I sucked it in and said, I've been through more dangerous stuff before. Hopefully someone would get me out quickly if I fall in. I happily gave the safety strap to the guide, since I would have a bigger likelihood of falling off…meaning, it felt much more important for the guide to stay in the boat to get me back in…haha!
And I was glad I went with them. I flew off into some rapids and hit my legs in some rocks, but it was worth it. Risky things tend to make me feel more alive, especially after everything. Not that it wasn't relatively safe. The rapids did get wild for a while, we went through about 17…but in the middle of everything, I got to enjoy the sights and sounds of nature.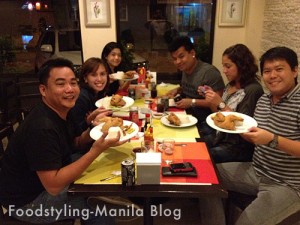 For dinner, we went for a big, yummy meal at Papa Ching's. Probably Davao's best known place for battered fried chicken (and they seem to have a lot of battered fried chicken versions here!).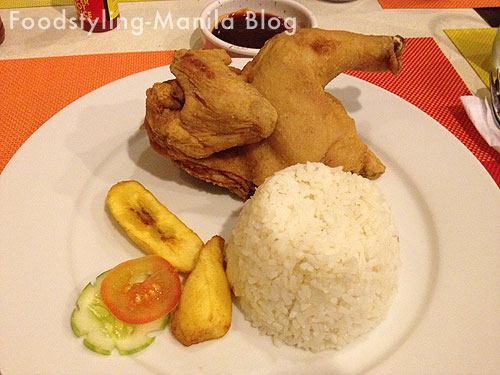 I got the Original, 1/2 chicken with bananas and rice. I loved the super juicy insides the it actually squirts juice out when you cut into it. The crisp skin is just so tasty but bordering on salty in some areas which is great with the ketchup. It feels like this chicken's been rubbed with chicken powder.
We also ordered some chicken skin chicharon on the side and it was heavenly.
It was the perfect meal for a tiring day of rafting.