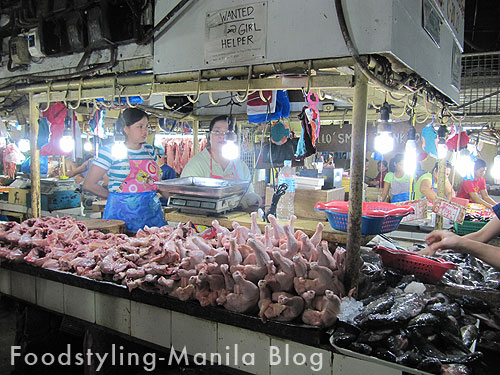 As I said, there were only 2 reasons for me to go to this market 1) really cheap veggies and 2) carabao meat.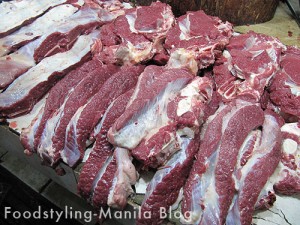 Yes folks…Carabao Meat. The dignified National Animal. I don't find anything wrong with the  carabaos for meat, just as long as it's not double dead and it was raised for its meat. It doesn't make the animal any less dignified…in fact, it is a good source of cheaper-than-beef protein. I think the "illegality" comes from the way it was butchered or the chance that again, it might be double dead/contaminated…but that's why you also have to be heaps vigilant with what you're buying.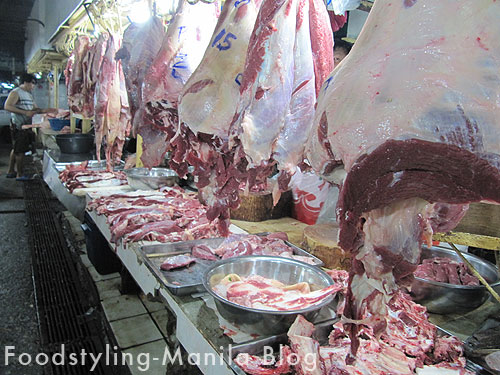 There was a really odd smell when you hang out in the butchering area of the Balintawak market. I really think that it's because of the hanging slabs of carabao meats and carcass because it doesn't really smell that way in other places. Carabao meat is way darker than beef and gamier in flavor, and tougher too.
I quickly decided on the parts I wanted: Sirloin and Striploin. The butcher told me whatever the part, the price was 175 per kilo. I went a little closer to smell the hanging meat…and asked him to cut it up and weigh it.
I watched trucks come in with giant pigs hanging whole in hooks. Because of the tons of news about double dead pigs and chickens, I think I'd like to stay away from those usual meats anyway, I can get them in the grocery. Some chickens were actually being plucked onsite and most of the pigs were being butchered onsite.
A lot of the stalls were still closed since Sam said that usually peak hours would start at around 1am. I didn't really want to stick around for that to be honest. But it was a pretty darn good experience to be able to finally see giant slabs of the elusive "Carabao meat or Carabeef".