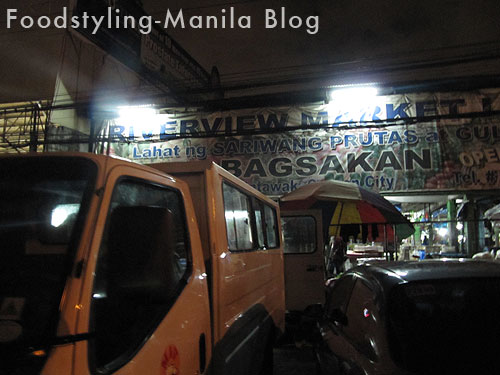 Finally, after a long time of just talking about it, I've finally found the time to go to the infamous Balintawak Market at night. My friend Sam, who currently operates the restaurant in Banawe called Mandarin Sky is a regular here…as in every few days in a week! Although it has always sent shivers up my spine to go to this place at night (talk about the bad publicity relating to everything that is double dead!), I was still pretty much interested in the 2 awesome things this place had to offer: 1) REALLY CHEAP fresh vegetables and 2) Carabao Meat. I'll get to the carabao later.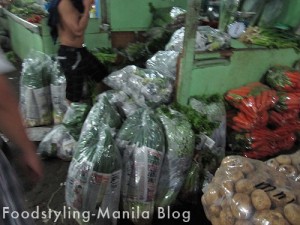 Anyway, my "tour" started off in the vegetable section. At 11:30pm, this place was kind of polluted. There were these 8-wheeler trucks parked inside the complex continuously dispatching sacks and sacks of fresh vegetables. Yes…dirt cheap. I didn't ask around much, but one of my favorite veggies ever, zucchini was only at P40 per kilo. Yes…P40…when they sell it at the grocery for maybe 5x the price. So I got myself 2 kilos…enough to indulge in my sedentary holy week.
Looking at the packed vegetables, you kind of get the feeling that you need to absolutely buy a lot here. Everything is either in mountains, sacks or these giant clear plastic bags. There are vegetable leaves on the floor, but it's relatively not bad except for the smoke. There weren't that many people which was a relief. I had lots of arm room to take all the pictures I want.
Still these were mainstream vegetables. They didn't have the special stuff as in farmer's (like pako or zucchini flowers etc), but it was cheap. And I kind of understand how restaurants and start off food businesses get from this place. It is THE source that's within Metro Manila…and the prices are just mind boggling. I'm just glad that my friend knew exactly the "good hours" to come over to this place without having to freak about the tons of people pouring in, and it does get pretty tight in there I'm sure.
Watch out for the meat section in part 2. 🙂