One of our chefs, Mark recommended this place. I was really intrigued by the fact this particular lugaw place had eyes, tripe and intestine as part of their lugaw repertoire. To be honest, I've never eaten a cow's eye (or whatever it was in there, it might have been a carabao eye…who knows?!). So after my short trip to balintawak, we headed over to Kabayan Lugawan in Kamuning which is open 24 hours.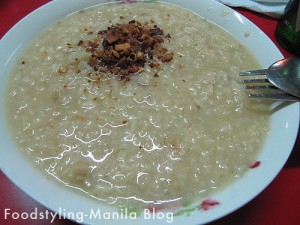 Laman Loob na Tinubuan ng Lugaw…this was how I felt about this dish. As the lady was ladling my portion onto the bowl (they had run out of my favorite, isaw or intestine), I was just amazed at how big this thing was…it was really an entire eye with the socket and some of the meat that surrounded it. It gave me the creeps. I ordered "mata & goto" or eyes & tripe with my soup.
Though the serving didn't look that big…it was. Lugaw is a rice porridge, made out of whole grain rice, broth and meats. This thing felt like an giant bowl of rice and soup.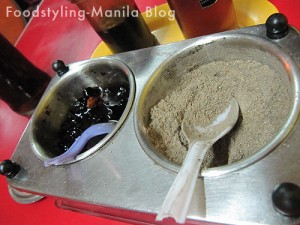 On the table there were condiments: fish sauce, garlic, soy sauce and some homemade chili in oil. The chilis looked roasted and when i tried a bit on a spoonful with the soup it left a cool, smokey feeling in my lungs. I still like the simplicity of the lugaw I had a Gloria's in Cash & Carry since this was a little too overwhelming for me. I also missed their sauce.
Still, this was a new experience for me. Biting into the chopped bites of the eye parts was interesting. The eye socket was a lot like eating the fat in the belly of a bangus. Eating the eye itself was like eating a rubbery dehydrated eggyolk even in flavor. I was still feeling a little sad about not having the intestines in there…that would've been awesome.
Still I had tripe and lots of it. I felt so full for the next 4 hours because of that dish. Cheap eats though at the price of P70…it filled me up for several hours and it contained innards…what's not to like?