China, my brother, Porto (my bro's dog), Mig and I went on an impromptu trip to Tagaytay for a night BBQ in China's newly built home. Traffic was light and we got to Tagaytay within an hour and a half after leaving Manila on a Friday at 4:30 (unbelievable!). Our first stop was Bag of Beans (that would be a different entry) and then began to set up on China's terrace. Our BBQ pack list looked like this: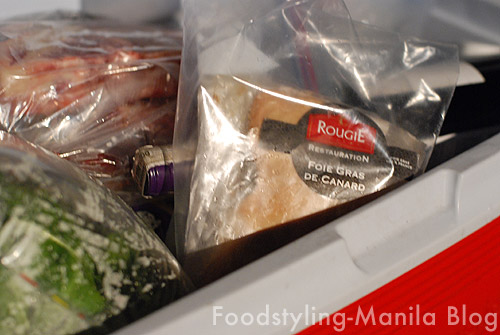 2 portable stoves, coals, 1 portable griller, 1 small cooler with ice, 1 big cooler with sodas and wines, 2 US ribeye steaks, 1 pack of Rougie Foie Gras, Salad Time Baby Arugula, Salad Time Tatsoi, Fresh Cherries, a series of our favorite condiments, olive oil, paper napkins, salt, pepper, chef's knife, tongs, matches, butane refill, a mat, 6 glasses, 4 wine glasses, forks and spoons, tea towels, dishwashing liquid, sponge, plates and 4 stainless containers…and we forgot the wine bottle opener at home.
Here is what we had for our first wave of eating:
Bag of beans' Goat Cream Cheese and Toast. The cream cheese is on the sweet side, but very creamy. It was pretty good but it reminded me of a dessert…I think this would be very good as a topping for a slightly salted apple pie or at the center of some crepes with a bit of mango.
First Creek Late Harvest Shiraz 2008: finally from my trip to australia, this lovely Shiraz finally had it'd spotlight moment at our picnic. I picked this out with my best friend Ana after a series of tastings around Hunter Valley. It has butterscotch and caramel notes and is slightly thicker than your usual Shiraz because of it's sugar content, perfect for the Foie Gras.
Foie Gras, Tatsoi and Baby Arugula Salad with Mr. Moo Cottage Cheese and Fresh Cherries (serves 4)
4-6 Tbsp Mr. Moo Cottage Cheese (from Tagaytay)
4 cups of Tatsoi Greens
1 small pack Salad Time Baby Arugula
12 pieces fresh cherries, pit removed, sliced
4 slices of foie gras or more
2 Tbsp Butter
1 Tsp Olive Oil
Salt and Pepper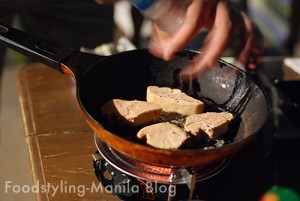 1. Cook the Foie Gras: Over medium heat, heat the pan and add the butter and olive oil. When the pan is hot, sprinkle the foie gras with salt and pepper and cook the first side of the foie gras. Depending on your portable stove and pan, this process could take longer than in a conventional stove.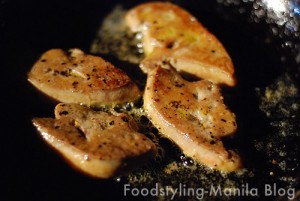 Check the underside of the foie gras and flip it over when it has a nice brown crusting at the bottom. Cook the other side the same way.
2. Make the salad: In a big bowl, mix together the baby arugula and tatsoi, sprinkled cottage cheese, fresh cherries and the left over butter from the foie gras' pan. Toss and serve in individual plates. Top with the foie gras.
Cottage cheese from Mr. Moo. It's creamy, slightly crumbly and basically an all around cheese that can go with anything. It has a slightly thickened "whipped" texture on the mouth. It was good when crumbled into the salad.
Foiegras from Rougie was cooked in a portable stove with salt pepper and butter. It was so simple and yet delicious. The dish paired well with my late harvest Shiraz adding an even deeper and yet refreshing dimension of caramel. The cherries acted like a confit, which cut the richness of the foie gras with it's tart and yet sweet taste.