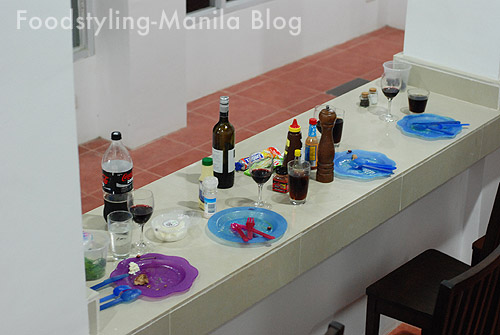 We sort of had the feeling that the night had become almost too perfect until the weather caused us to move to China's still-in-the-finishing-touches kitchen and dining which has the huge view of Taal lake and volcano. Even if we had a few windows in front of us, the weather was still beautiful and the wind flowed through their kitchen so nicely. Grilling was relocated into the back of the kitchen, where we used the Iwatani to dry up the coals that got wet from the sudden shower.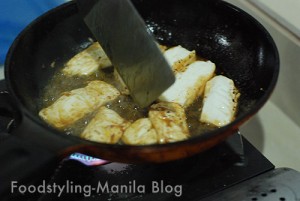 Tagaytay Carabao Kesong Puti from Mr. Moo – tried this today and unlike my bruschetta experience, this batch had totally zero bitterness even when raw. Guess I was unlucky enough to have come across a batch that went awry. Tonight's special though was the fact that China fried the kesong Puti in the leftover foie gRAS butter, it sounded almost insane but it had tobe good…it had gooseliver and cheese, my two favorite things.. The result? The outside was extra tasty of course! But you could hardly taste the foie gras, there were remnants of a few drops of truffle oil that China had put in a few second before…this was heavenly!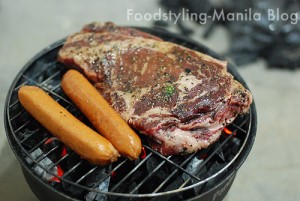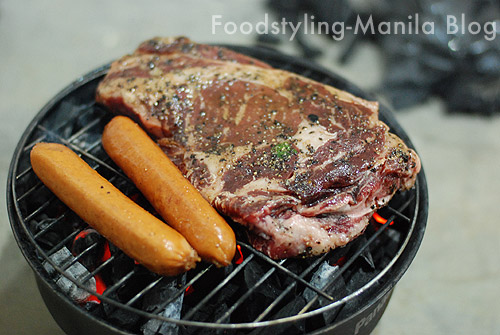 US Ribeye Steak & Johnsonville Hotdogs – grilled with salt and pepper, perfectly cooked to medium rare and totally tender thanks to the awesome fat marbling of US beef. I love the buttery taste and the soft texture. The only downside is the fact that there was a lot of fat in this piece that I couldn't eat because I'd get into tons of trouble. The Johnsonville hotdogs are always good. They added a fun flavor to our super rich main course.