We finally went to the usually full Everything @ Steak inside the Petron Station in P. Guevarra. I usually get curious about this place since I see that it's normally full on a weeknight when I gas up. The place is pretty small, the menu and their food looked affordable and their small kitchen and staff seemed able and friendly. I also decided to use my new iPad to take pictures and blog at the same time…my pictures sucked…but anyway, here's what we had: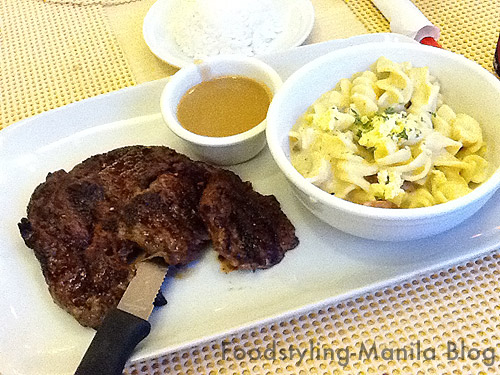 Ribeye Steak Cajun-style rub and Mushroom Gravy: This tasted burnt with patches of bitter notes all over. I know Cajun style is into grilling but not to the point where it's got bitterness. It might have been a bad day for the chefs. The steak's marinade overpowered even the meat flavor. We tried dipping it into the gravy and it was still bad. I decided to dip into the tartar sauce and it covered up the burnt taste. No, it wasn't well done since the inside was still pink. I am still not disheartened about this experience, I would like to try the other steaks next time.
The siding we picked was a "chorizo carbonara" and it was a pretty good portion.  But it was a sad carbonara made out of powdered mushroom soup and water and pieces of a cheap chorizo. It reminded me of industrial grade mushroom soup so much that it was like eating a thick version of soup with pasta on it. I wish they hadn't called it carbonara because a carbonara is usually made out of eggs, cheese with cream or butter…
Just when I was about to totally feel bad about our orders the Fish and chips came out. Though it looked a little dark, I instantly knew that this was good, it was also a big hefty portion which would make some happy room in our stomachs due to the disappointment caused by the steak. The batter was great and it resembled the fish and chips I had in Sydney, just a bit on the darker side. It was nice crisp on the outside with the nice air pocket and moist fish on the inside. Tartar sauce was good too even if it was your typical tartar. We really enjoyed the fish and chips and it is worth coming back just for that.
The Apple pie was interesting. The crumble or pie part reminded me of a good old cookie dough that is toasted at the top, I wasn't sure if it was intentionally almost like cookie dough (a bit on the raw side). Apple filling was thinner than the crust and it looked a little odd at first since it is served in a big ramekin. Good flavor, maybe needs a little salt component like cheese or basically some salt.
We want to come back and give this place another chance..maybe we'll stay away from Cajun and carbonara since it looks like a lot of people enjoy the place.I will probably
Y order the t-bone or lamb or ribs next time. Using your iPad to take pictures is a bad idea. But it was pretty convenient to type down my notes in a big screen instead of my iPhone, but at the same time it was quite bulky.