We made reservations in the quite hidden, Chateau Hestia. So we made our way (which was surprisingly farther than I thought) to the border of Tagaytay and Silang Cavite. It was quite a rainy evening, but the nice wet weather only meant that everything was extra cold and quiet down in Chateau Hestia.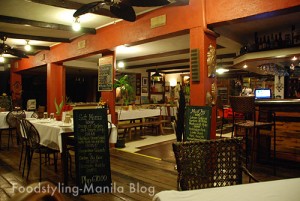 When we got to the restaurant, we were quickly greeted by the owner, Johannes with a big smile. He played with Jack and led us to our table. Their waiters gave Jack a bowl of water and was pretty surprised that he wasn't all over the place. Despite the rainy weather and the fact that we didn't see the garden at night, the place was very, very cozy. Their staff was excellent at helping people with anything. We felt very pampered indeed so pampered that I decided to drink up and let loose. The first thing I ordered was the 500mL beer. So here was our dinner:
Free toast and dip: some toasted sliced bread and eggplant dip. This was pretty good to pass the time but our first dish came out quickly anyway.
Hestia green salad – a little disappointed with the fact that our came without the leaves I was looking forward to: baby tatsoi and mizuna…I nicely asked the Manager where the tatsoi and mizuna were and took our bowl back for a remix with arugula. Guess the weather wasn't cooperating (rainy), maybe it is not the season for these baby greens (tatsoi and mizuna), dressing is a light citrus like vinaigrette with some pineapple. Glad they gave us some arugula.
Bolognese – we decided to go pasta since we already had meat for lunch. It light but tasty a good mix of tomato acid and richness of the meat. Doesn't taste canned (tomato sauce which is a breath of fresh air). Pasta was cooked to a perfect doneness this was something that reminds me of someone who cooked it with care.
Say cheese pizza – we did the half and half combo so we could eat a lot of items without over-ordering. This was definitely a great symphony of 5 cheeses (my favorite dairy product next to milk)! Finally! A place that will put all the good cheeses in one pizza (sorry to those candle like cheddar lovers, the cheeses are top quality for this one). Crust is thin and bubbly, bordering on good crisp. The browning on the pizza creates a wonderful strong flavor that stands out from the rest of the cheese pizzas I've had (except of course, those that my brother make himself = no ingredient budget). Glad we took this pizza. I would definitely order this again, even if I want to taste other stuff next time.
Reale – It had nice meats in it, prosciutto, bacon, some salami and their homemade tomato sauce and cheese. It was a very tasty pizza that was very meaty, it was like a deli store in my mouth.
The manager gave us some free limincello (Johaness makes this himself) which tasted so much like dalandan and calamansi. It was very smooth at first, then you notice a minty feeling in your throat. The Vin d Orange made by Johannes himself was so fragrant and candy like. Again it was smooth and sweet. It wasn't really like grappa or anything I've tasted before.
Chocolate Soufflé – I was actually expecting the usual meringue puffball served in Cafe but it wasn't. It was more like a lava cake, it very rich with a butter caramel and chocolate center, I think it also had some sort of soft nougat. It was very creamy and thick…but I would've wanted this to be a little warm to complete the experience…but anyway that's my opinion. The side of whipped cream was the perfect topping.
We also got some free passionfruit from their tree. I've never seen them this yellow and it was beautiful. I loved the experience at Hestia, hopefully we could come back and sample their other menu items (like their Osso Buco!).
Chateau Hestia is in Purok 5, Brgy. Bukal, Silang, Cavite, Philippines 4118 (near Tagaytay City). Visit their site to get a map, because it is quite a doozy for a first timer.