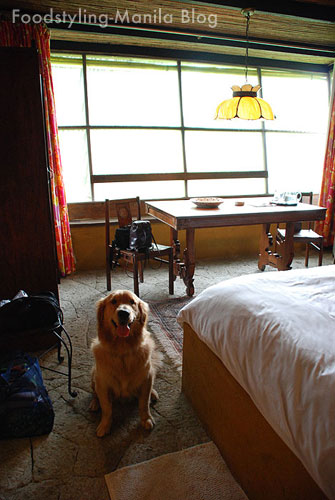 We planned a nice overnight and was able to find a beautiful place in Tagaytay that allowed dogs: Moon Garden. When we stepped into the place, we were immediately shrouded in greenery and Jack became really anxious about all the plants…this was his first night out of the house…and not in the vet. Moon Garden is not a big place, but it was very quiet. All you could here were crickets and the different sounds of birds and frogs. Everything was refreshing to the eyes and despite the wet weather, the smell and greenery and cool breeze was very welcome.
Lyn, the caretaker, took us to our room. We were at the very end of the garden…our view was a tiny pocket garden, the big bunch of bamboo trees, and a creek. The house definitely had a lot of wood and old accents and was generally made to "blend with nature" with the use of rocks for the walls and floor. Even the bathroom was made of rocks and used a sky light as natural lighting. It was really beautiful. It felt like we were the only persons there (even if the other huts were also booked)!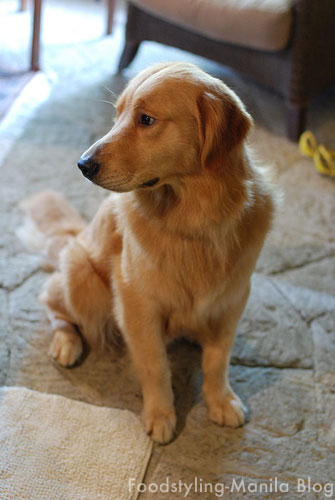 It was a good thing that we have trained Jack off leash and taught him to pee and poo on command, I think the management wouldn't have let such a big dog into the cottage if it wasn't for our assurance that he would not destroy, poo or pee on anything inside. We took the his water and food bowl with us, a ration of kibble and some dry dog food….and a lot of treats and toys. He found his own spot on the room and became well acquainted with the new "door" style to the bathroom which was a white drape. Mig and I unpacked an rested a bit and decided to go up for lunch.
I love the bathroom and the bed…but you will have to bring some anti-mite spray for those who are extra sensitive (I am allergic to dust mites). The mattress was totally soft and had a nice thick enhancer. They also had a cozy comforter and 4 pillows on the bed. The room had a ceiling fan right on top of the bed for extra circulation, but all the air would come from the entire front of the cottage (one wall was entirely a window with a silk screen).
Time for Lunch! Moon Garden is no longer open for walk ins…you will need to reserve your room and lunch if ever you want to go there. The menu was fairly simple but interesting— and array of bout 12 dishes, and looked very simple and yet inviting. I, of course, went for the Paksiw Cochinillo, while Mig took his Jack Fish fillet. We waited for our food and hung around the pond (I'm not sure if I have the dishes' names down correctly).
Paksiw na Cochinillo with a Cucumber-Singkamas-Dill Salad and Rice – The cochinillo was very soft, the sauce was just okay. I can't say it was the best paksiw I've tasted but it was pretty decent. Food resembled something you would expect from in a spa: clean flavors and something fresh like the salad that came with it (which at first, i didn't think it would match but surprisingly it sort of did!). Rice was very tiny. But I still ended up feeling quite full.
Jack Fish with a Creamy Dill-Butter Sauce -the Jack fish was nicely salted and panfried to a slight crisp. The sauce was a surprisingly light but creamy dill-butter-cream sauce. I didn't eat much of this since it was Mig's dish and I was focused on my cochinillo. I am not really into eating seafood in Tagaytay (except for their local catch, Tawilis).
Lunch at moon garden was pretty much okay. But I totally loved the ambiance and freshness of the sidings. Food was cooked with a lot of heart but it wasn't really knock-my-socks-off type like Verbena (Discovery) which will probably also cost twice as much. Here you can enjoy the freshness of the place and pretty much decent eats.
Address: SVD Road, San Jose, Tagaytay City, Philippines
Contact No : +63917.502.3118
Email : moongardentag@gmail.com
More photos down here: