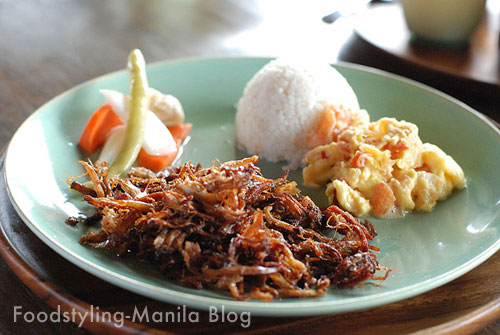 After a nice and cozy night of total relaxation and drinking, I wake up to the beautiful sunlight coming in through our window and the sounds of the birds. I actually felt sad that because this meant our trip was ending! It was so hard to get out of bed because of the plush and ultra-soft mattress and cozy comforter. We got up and headed out for breakfast. It was still a bit rainy so we had to walk to the dining area with their umbrella. We actually saw the other guests having breakfast as well!
What I had: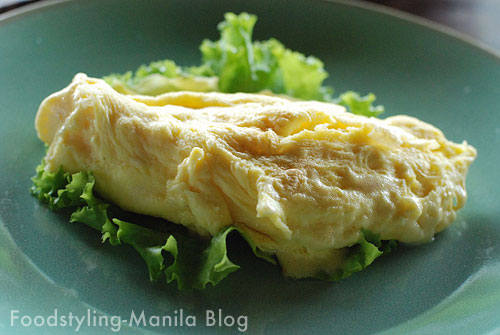 Smoked Salmon Omelette – this was basically smoked salmon and a beaten egg. Very clean taste.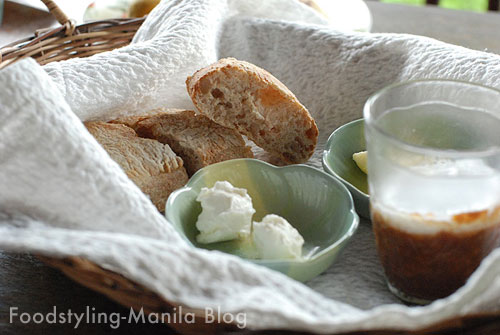 Bread in a Basket with Homemade Jam and Organic Cream Cheese and Butter – i loved this. I think the ciabatta was whole wheat and the cream cheese was really just out of the farm! It was soft and ultra-creamy! I finished the entire serving! The Jam was also interesting, it was homemade and probably made out of muscavado sugar and pineapple…quaint and filipino.
Turnip and Apple Juice – This was very refreshing and very cleansing. I the flavor of the apple and turnip was prominent. I loved this drink!
Jasmine Tea
Adobo Flakes with Rice, Scrambled Egg and Homemade Pickles – this was a good plate of breakfast. The servings were just right and the flavors, again very clean. This plate was made with love.
Coffee
Turnip and Apple Juice
I loved the ambiance in the morning. It was cool and we were eating while overlooking the garden.  it was a very wonderful experience! We really enjoyed our overnight's stay here at Moon Garden, it really was a quiet and tranquil place to get away from it all and have some real quiet time.
Address: SVD Road, San Jose, Tagaytay City, Philippines
Contact No : +63917.502.3118
Email : moongardentag@gmail.com