We decided to go ahead and celebrate Jack's 2nd Birthday party at home a few months after his birthday because of how busy everything has become. Still, I think he didn't mind at all.
I baked him a round cake with liver cake base and our healthy cream cheese frosting ala Whole Pet Kitchen so that I could easily cut it and distribute.
Francis, decided to make Jack and his guests a giant burger made out of beef, liver and eggs. He cooked it in a big pan and flipped it over to make sure everything was cooked well.
I got the hats from Japan Home, they were small enough to fit the Jackrussels Porto and Pignoli at home and still look good on Jack.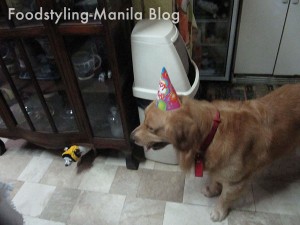 Salsa just threw a fit when I placed a bumblebee head gear on her head.
Each dog had their own bowl to ensure that no one would fight over someone else's share and the cake was cut to their correct portion size. I froze the rest. Surprisingly, the dogs still ate the cake even after that giant burger was served to them.