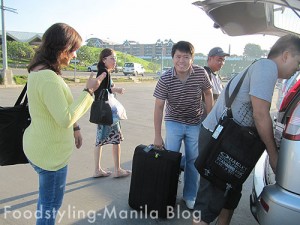 Natuloy din! Finally, all of us, in Davao at the same time without me having to think about work..this was the best way to end my summer this year. This was going to be my first time in Davao so I wanted to just get the most out of the trip. Our very good friend, Chef Paul Tee invited us to Davao and we stayed in his place for a few days of R&R. From the airport, I can already have a slight smell of durian in the air. Paul picked us up and we headed to one of the most famous places for lugaw in Davao: Dencia's.
Dencia's has apparently become an empire here from literally what is called "tubong lugaw". At 7am you can find this place already filled with people having their bowl of lugaw and tokwa't baboy. It really made me curious on how things can get so big from rice porridge.
I went into the assembly area where they would prepare the lugaw and the toppings. Basically, there is one porridge for all kinds, and they just add the toppings before serving. Still this is not like Kabayan's where they have to fish out the parts prior to cutting it and serving it.
Service is a little slower than what we have here in Manila, maybe because they were packed with folks too on that day. Though when the tokwa't baboy came, all the wait seemed worth it since I've never tried this kind anywhere else and I liked it.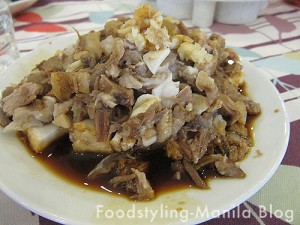 The tokwa't baboy (or depending on what you want baboy-baboy, all porkor tokwa only, all tofu) had a strong flavor of garlic which I liked and their soy sauce with vinegar was the perfect match for the pork and tofu pieces. Everything blended well so perfectly and the tofu pieces they used were soft tofu (unlike the usual firm tofu that's fried, this has a lightly fried exterior, and it still kept the tofu inside pretty soft).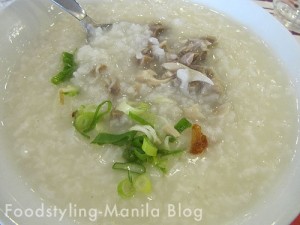 Then came my lugaw with intestines. The innards were pretty chewy and the flavor of the porridge seemed like it was boiled for hours with the meats. Serving size was just right for me. Lugaw goes for P60 here.