After our dinner at Moshi Koshi, Ange and I decided to grab some dessert somewhere nearby. We decided to go all "Japanese" by heading to Tokyo Bubble Tea in Wilson Street. This place is always packed…every night, every day, 7x a week. I know because I pass by this restaurant on a daily basis, going to and from work!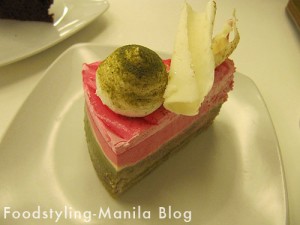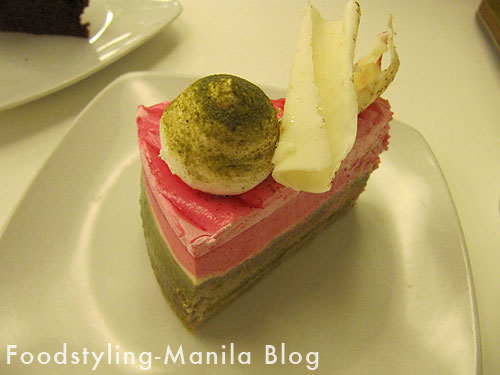 This is another example of a modern and yet cozy place that seems to invite people to sit down and talk. To my surprise there were a lot of children despite the hour, maybe summer was here and kids can afford to stay up late because there's no school the next day. Bubble Tea has a cute patisserie in it. The owner of Bubble Tea was my classmate at this short course in Ateneo, and he says that the cakes and pastries were his wife's side of the business.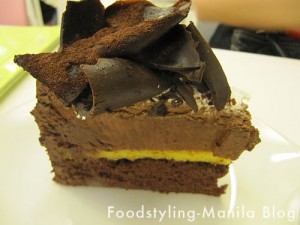 The cakes all looked great and festive, I decided to go for the sliced ones…Ange and I decided to get one each. To our surprise the slices were pretty huge!
Macha Strawberry Cake – this was a green tea sponge cake with lots and lots of cream and a sort of strawberry jam all over. This cake was pretty heavy. I think it was because of the cream. But kids loooove cakes like these!
Roasted Cocoa Cake – this was a chocoholic's dream. There was a thick chocolate sponge cake, with a chocolate cream on top, and a delicious caramel or egg like custard in the center.
Though sliced cakes have a reputation of getting quite dry easily because of storage, the cakes were pretty good, it sort of reminded me of the stuff I used to eat and enjoy when I was a kid. I guess I really am not much of a sweet tooth, still Tokyo Bubble Tea is a great place to sit, eat and have a little chat.