For the carabao striploin I bought, I decided to make a stew along with some tripe from the grocery. When I make stews, my seasonings and additions become very flexible, I didn't really have a recipe, but I just seasoned it to how I wanted it to taste. The flavor of this stew is basically a lot like callos except that it contains demiglace which gives it a deeper, richer and heavier flavor. Basically this is a rough estimate of what went down in my stock pot the other day:
Carabao Meat and Trip Stew
1 kilo carabao striploin, cut into medium cubes
700g tripe
250g bacon or salami, chopped
2 cans of stewed tomatoes (i ran out of tomato sauce/paste, I would have done 1 can of tomato sauce and 1 of the stewed)
1 cup demiglace (or something like Braaten sauce or Brown Sauce)
1/4 cup butter
4 tbsp olive oil
Rosemary
Thyme
Cumin
Paprika Bilbao/Picante
Cayenne Pepper
Red Wine
Brandy
1 large onion or 2 medium onions
3-4 Bell peppers
1/4 cup black olives
1/2 cup chickpeas, peeled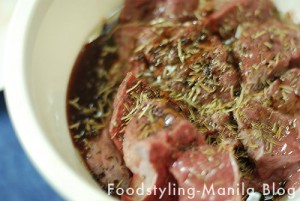 1)Marinate the carabao meat in red wine, rosemary, pepper and thyme, preferably overnight.
2)Using a pressure cooker, cook the tripe in water for about 15 minutes. Set aside stock and cut tripe into small pieces when it is cool. Then, using the pressure cooker, cook the carabao meat in the water for about 20 minutes. Set aside.
3) Char the outside of the bell peppers over direct fire (either on a wire on the stove or using a torch). Cover and let cool. Peel.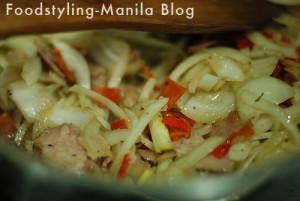 4) In a large stockpot, brown the carabao meat in butter and olive oil, set aside. Then add the onions, bacon, paprika, some cayenne, skinned bell peppers to the stockpot and saute until the onions are transparent. Add lots of red wine and the carabao meat and allow to simmer for a 20 minutes or until the red wine is reduced to half.
5) Add the stewed tomatoes, some tripe/meat stock, demiglace, some cumin olives, chickpeas and brandy. Allow to simmer over medium heat for about 2 hours and add the tripe. Let simmer for another few minutes to an hour. Add salt and pepper to taste. Adjust the spices prior to completely turning off the fire. This is best cooked DAYS before you actually serve it. It gives the meat and tripe time to take in all the flavors of the sauce.
What I did with this stew was that I cooked it days ahead prior to having my cousins over so that the flavors can sit and mix in with the meats over time. Stews like this tastes better over time and can be served with either rice or toasted bread. Enjoy my other pics!