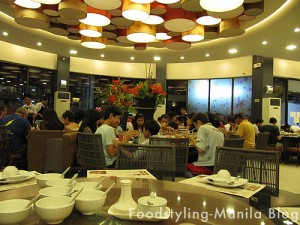 Finally I am back to keeping tabs on the places I go to, to eat. We recently had a family gathering for my late lolo and lola's birthday at Yang Chow in Eton Centris. The restaurant was packed even before dinner and people seem to be in line. The smell of the place is pleasant it's not like those "kulob" Chinese holes in the walls I'm used to. Seats in a lot of the tables are nice and big, cushioned. Here's what we had: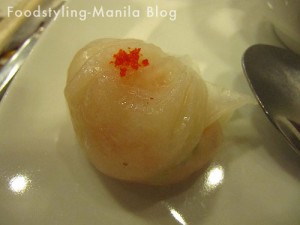 Hakaw  – the shrimp was crunchy and tasted good. Pretty standard, but the wrapper was firm and yet delicate. Didn't really need sauce in my opinion.
Seafood Fried Noodles – this is a mix of crisp and soft it's like fried gravy noodles with seafood. Flavors are relatively clean and the vegetables were really crisp and refreshing.
Fried Chicken – this was tasty and the skin was nice and crisp. It was like a soy fried chicken with a deep sweet sour sauce. This is what the kids ate in our table. It also came with some kropek.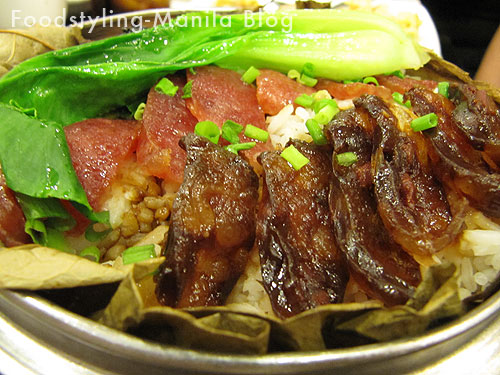 Lotus Leaf with Preserved Meat and Sausage – the smell was amazing! I could almost taste the sausage in the smell thoough the lotus isn't that obvious (since real lotus rice is steamed in lotus for a long time, which should make the rice turn slightly beige). The sweet Chinese sausage was delightful and the preserved meat was salty in a just right way. I love the mix of flavors and fat hehe.

Fish Lip Soup – The soup was not as thick as I had expected. But the flavor was nice and in your face. It tasted like the broth had a sharp ham and good superior stock. There were also some wood-ear mushrooms for texture. There were pieces of pork, bamboo shoot and glass noodles that made up for the lack of thickness I was expecting. I liked this one bec despite the lack of thickness, the textures were really good and the flavor too!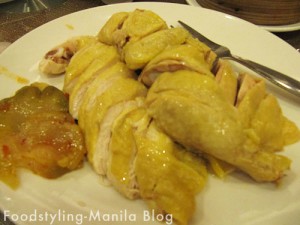 White Chicken – it had an amazing slick velvety feeling in the tongue. Great chicken flavor that tasted slightly of wine.
Baguio beans w XO sauce – a bit salty, but beans were refreshing.
Pollunchay with Garlic – The pollunchay was nice and crisp with garlic that makes the perfect yet simple marriage of flavors. This is pretty standard, but done well.
I've eaten in their branch before in Shopwise and I could say that the food was pretty good for the unbelievably low price. This place is really a bang for your buck especially when eating in a group. Everything is good only because you know that they have pretty good standards on how it should be especially for the price that they sell their dishes.