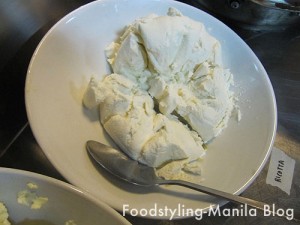 Cheese is my super favorite, favorite food! And for the first time in the history of anything, the Center for Asian Culinary Studies, along with Chef Elena Rivera, had their first cheese making workshop open to the public! Yes, you don't have to be a professional chef to make your own cheese, and the fabulous mix of people in our class proved it!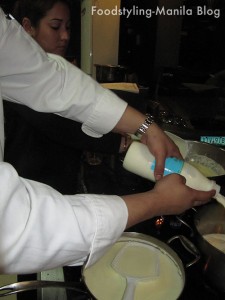 When making cheese, first you need some good milk. For the cheese making class, we had a choice of 3 kinds of milk: goat, buffalo and cow.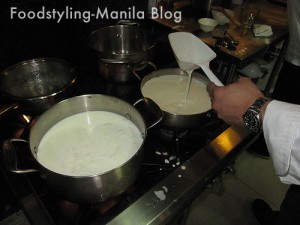 Then, some cheeses need a bit of a push using a starter, or rennet which you add to the milk and helps make curds. But we also learned how to make Mascarpone which basically used lemon and lots of time and love. 🙂
Usually, you gently heat the milk until it reaches the right temperature, turn it off then let it cool a bit before adding your  helpers to make the curds.
Once it starts to slowly solidify, you can put the mixture in a cheese cloth to start the aging and draining of the whey. A lot of our cheese took about 20 hours to age, some we were able to taste quickly like the Mascarpone.
Of course, you have to add salt, you can't rely on the milk alone. So far, we've been making lots of nice cheeses ever since…I'm pretty excited for the next workshop which will hopefully tackle more kinds of cheeses. Taking classes is always fun…you're never too old to take up something new! 🙂