They say that when you enjoy your work, you will always be happy, inspired and you will never be truly tired. I already proved that with my food styling projects and now I am going to enter into a new hobby while trying to balance what I'm already doing now (hahah wish me luck). I've been thinking about this for years…I just thought, man would that be ridiculous, I think I'm one of the few pet owners who must be OC enough to cook for their dogs..but in the recent years, the more we understand pet nutrition, the more options we should have in terms of what we can feed.
So with this in mind, I decided to go off and try out some recipes of pet treats. I've been cooking dog food for years and I hand raised a bird using a fresh fruit formula and I thought, how hard could treats be? The answer? Quite challenging. I started doing full research on pet food and treats earlier in the year and made use of my cheffing skills to come up with some recipes. The food is easier to make than the treats, but I want to do things right and get a lab to chemically analyze everything just to make sure they fit into the vitamin and mineral profile needed by the pets.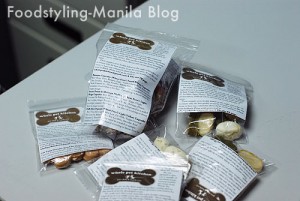 This weekend, I tried my hand in giving out treats to strangers who had pets…and how timely it was because there was a Pet Event in Bonifacio High Street last Sunday. So I got all my hopeful recipes together, and made the treats on a Saturday night. My roster was 3 kinds of doggie biscotti, 4 kinds of doggie biscuits, 3 kinds of doggie muffins and a cake…plus a treat for cats.
Mig, not knowing a thing about baking, got an instant crash course to making some muffins and biscuits. He did so well but had a hard time in preparing (who doesn't). As for me, I was busy making sure that everything was weighed…all the techniques were relatively easy but I had to taste each and every item on the roster.
The next morning, I did some shooting of the treats. I also did some home taste testing. During my 1st treat sampling, I only gave some friends and relatives…and I wasn't sure if they were being slightly biased considering that I made the treats..
So off we went to Boni High…I felt like a person giving out flyers…only people were nice and receptive after I told them that my treats were really made for dogs but were made of human-grade ingredients and were free from harmful stuff. I was also able to talk to a few people who were already familiar with the concept and they were thrilled to get a free sample. Hopefully this week, I will get enough feedback from the 50 plus bags of treats we gave each pet owner. I only had the cat treats left in my bag after since we were only able to give out a few cat treats during that day.
This is another new and great adventure I'm going into. This is the perfect marriage of the 2 things I love in life: cooking and pets. Hopefully, I'm not the only one crazy enough to give my dogs a muffin or two. Please check out the Whole Pet Kitchen FB page!