Finally after all these years of promising myself I will be back in, the great, Raymund Isaac's studio; here I was carrying all my stuff to his second floor photo room. When I was in college, I had watched a shoot with Raymund Isaac and wanted to pursue portrait photography, I already asked him before if I could assist and he said yes…too bad that plan never came to be, but I still promised myself I'll be back in there someday to take pictures. Today, I was back, but I wasn't taking pictures.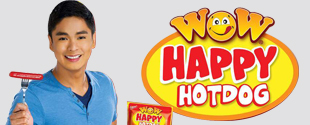 Anyway my shoot was unlike any other shoot, this time instead of people waiting for the food (this is the second time I'm doing a shoot with a talent), I had to make sure there were perfect hotdogs coming out for each of our talents. Raymund was fast and great at directing, this made me want to step up and be quick but precise as well.
The technique I used on the hotdog is your usual boil and fry except this one was done with utmost care. I  did a "cool shallow fry" just to slightly cook the outside of the hotdog but not too much to create wrinkles. The products really needed no color enhancements and were easy to work with as they molded into a perfect log when cooked while rolling. The product? I've only found this tiny picture online but I heard from our stylist that we had a billboard somewhere in Edsa at one point in time. Too bad I missed seeing that.
The best part of this day was finding out the wonderful world of ad making as I listened to the stories of my new found friends who worked for the agency as well as the client who had years of marketing experience. It was also interesting to see everyone's efforts pool together to produce an ad, you gain a respect for the work the individuals do as well as the way they all go together. It was pretty interesting to work with a celebrity too.