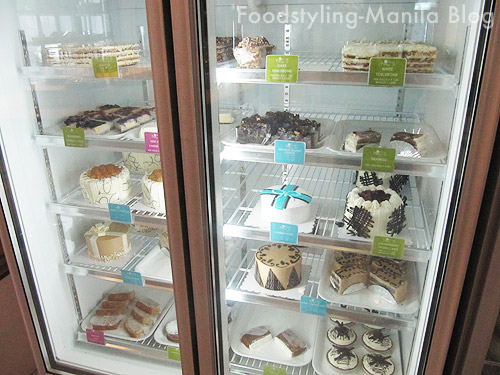 It's hard to miss another cute place that's beaming white with shelves full of bread and pastries. Mig and I finally stopped by Nic's Gourmet Desserts on the way home from a Saturday lunch. Though there were a ton of different kinds of bars, cookies, breads, cakes, and muffins, we just want to try some stuff, too see if we should be ordering even more next time.
Brownie walnut cluster (P85) reminded me of something my best friend Ana would crave for on a normal day (she's a chocoholic). The brownie was so soft and moist that you had to move it around your mouth before you can actually chew it. It had such a velvety mouthfeel that it could be served cold or warm. The caramel and walnuts were just added richness and texture but ultimately, I loved this freshly baked feel in my mouth. What a treat! Sweetness is on a good level and it didn't give me an acidic taste in my mouth after everything I ate.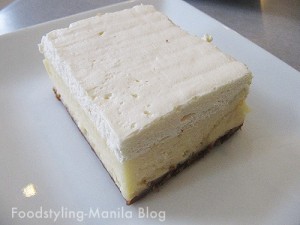 New York cheesecake (P120) had a nice cheesey tartness. The crust was made of a butter graham mix. The top was something like a light whipped cream. The cheesecake was nice and smooth without grit. But I should've gone with my instincts and went for the Blueberry Cheesecake. I think I will do that next time. I do like fruit and syrup on my cheesecake…
We got a nice treat of a free tasting of their sans rival: this funny looking layered meringue and buttercream. Sweetness is pretty good and I seem to have bitten into a caramel nut. The meringue is crisp although I don't really know what to say about their butter cream…I guess I am so used to our butter cream that it didn't really leave much of an impression. I saw a Bruun Butter cake though (for a kid from the 80's when Bruun Butter was a huge "deli" product)…I will go back to see how that is. But since it was a big loaf, I would come back another day.