Yes! Ersao closes at 1am, great for the sudden milk tea craving. Coming home from my cousins' place, we decided to stop by the nicely lit cafe at 12:30am. I used to be a big fan of Ersao when they had a small shop in Wilson street back in the 90s. During that time, it was Quickly, Zagu and Ersao having the beverage battles in San Juan. I've always liked their little snacks, today we ordered chicken gizzard, melon shake and pearl milk tea. Surprisingly, lots of other people came in for last orders and we were waiting for ours.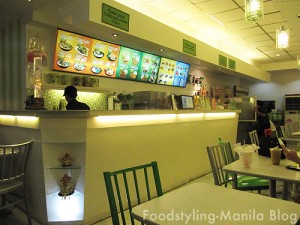 The tea flavor of the pearl milk tea (P45) here is quite subtle. No sweetness levels that are adjustable. Not freshly brewed, but still very good. I think this place has maintained a very friendly atmosphere vs the other tea place in San Juan when things seem to be bordering on gourmet. This is your no-frills take-it-as-it-is place, but surprisingly, it gets filled before closing. My milk tea was really cheap vs. the ones in San Juan, basically it did the job of satisfying a night craving.

The chicken gizzard (P65) is already slightly spicy and very tender. It would be really great with beer, only this place doesn't serve alcohol. The marinade is made of soy sauce with some chili. I really liked their chili sauce condiment in this place, it tastes very fresh and very spicy.
The melon shake reminds me of those wonderful melon juices I used to have as a kid…those that my parents dont want me to drink because they're usually sold in the streets. (P 55)