Finally we were able to eat at BonChon in their newly opened branch in Greenhills. I was soo looking forward to the fact that they serve drumsticks as chosen parts and the fact that the place was always full and we got a good bar table. Here's what we had: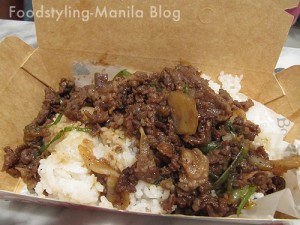 Bulgogi rice was sweetish but had a good beef flavor (buttery too!). The meat was tender and a bit fatty and perfect with the rice which absorbed all the lovely fats and juices. The onions and spring onions added more sweetness to the dish. (P 145)
Kimchi coleslaw was exactly that, coleslaw with a little kimchi sauce for extra heat and spice. This was very good with both the Bulgogi rice and the Drumsticks.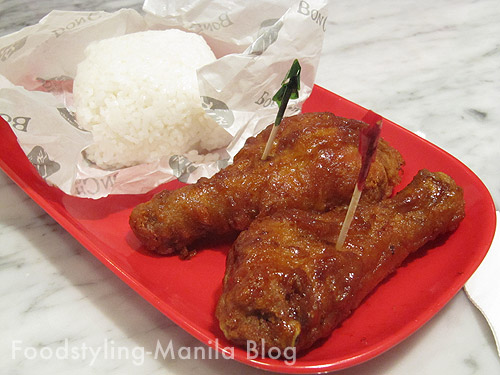 2-pc Chicken Drumsticks with Rice, Sweet and Spicy flavor: The chicken skin was crisp, spicy and a bit sweet. It reminded of almost having Peking duck skin but maybe the more modern and cheap versionversion. I love the way the crispy skin absorbed the sauce and had sauced parts and crisp parts. Plus the meat was tender and moist on the inside. Thank God for Bonchon's drumstick only choice, this is my favorite chicken part ever. It was especially interesting too with the gojichang or spicy mayo. (P 145)
We decided to get another dish so we can try more stuff: Spicy Chicken Sandwich, Sweet and Spicy Flavor. The sandwich was huge! The chicken patties were very crisp on the outside and the best part was the fact that there were 2 patties! It was especially good after being able to bite into the rest of the vegetables midway. Bread was soft, veggies were cold and crisp and chicken was warm, crisp, sweet and spicy..definitely a must try! (P 160)
The fries that came with the sandwich were a bit soggy only because it is kept in a cup, I guess the heat causes everything to sweat but was still tasty with the mayo. I also liked their iced tea because the tea flavor is prominent and is just right on the sweetness.
BonChon is really affordable especially if you order their baskets. We really liked our experience there and it's another great addition to good eats prior to movie dates in Promenade.