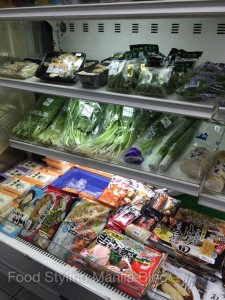 It's been a while since I've been to New Hachin Japanese Grocery in Makati. Though I went to the one in Cartimar a couple of months back to source out some items for a shoot, I still find the one in Makati the best when it comes to fresh and accessible food. That's because they have some fresh sections where you can easily get ready made meals, fresh Japanese and Japanese quality produce, and they also have a takoyaki and sashimi station. Part 1 of this entry will be about everything you can take home from Hachin and less about the ready made food.
Their fresh veggies section consists of imported and locally grown greens, but mostly they have imports. They have imported tomatoes, gherkins, spinach, okra, mushrooms and some fruits in that section and above that are the imported fruit juices.
They also have a noodle and sauces section, cosmetics, little home materials too. There must be a big Japanese population in this area because I stayed there for a few hours and most of the people I overheard spoke in Japanese. Yes folks, they even have imported dog and cat food (but most of that section is for cats).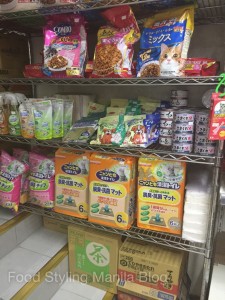 What I also loved about Hachin is its wide selection of noodles and curry which are ready made seasonings and all you need is to saute your meats and veggies and add the concentrated sauce.
They also have a LOT of already breaded frozen goods, as well as frozen fish that's ready to grill, frozen takoyaki, frozen tempura, frozen katsudon, all beautifully arranged in their freezers for easy picking.
There is also a small nook dedicated to kids (or atleast I think it's for kids), where they have yogurt and milk (but very pricey) and even those fish cakes shaped like cartoon characters. This section also has ready made seaweed salads and little desserts.
Here's a little sneak peek of the photo that will be part of part 2 of this entry for the ready made meals in the store.
As I said, on this entry I would just try to describe the things you may buy and bring home but I won't be including the eatables (which you can also bring home or eat within the premises). Here is part 2 for the ready meals and dine-in.