As part 2 of this entry, I want to tell you about the two times I ate there (hahaha yeah, not once but twice within a month's time).
On the first one, I took a little detour from a trip to Sucat to avoid the traffic and stop by for lunch. Here's what we found: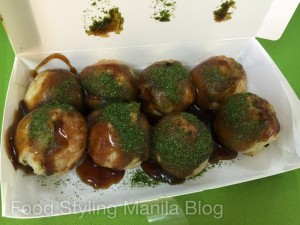 Takoyaki balls – they are only 85 for 8 big pieces and yes, it was delicious and i think it was a steal! But it was super hot by the way and it would be best to cool it a bit before eating it when you get it from the guy cooking them. They have generous cuts of octopus inside the tasty fluffy pancake.
This plate of huge maki with a bit of salmon roe in the center was only 275. This is already a meal in itself and I really appreciated the goodness of the sushi rice and the freshness of the salmon and tuna. This was available on my first lunch there, I didn't see this the second time, so I guess it's kind of interesting what you can find in the displays for the day.
These little appetisers were on display and it was 3 kinds of appetisers for 100. I wasn't a fan of the vegetables, to be honest, because i thought they were pickles but they weren't. The goma was subtle though and the seaweed salad with the tofu skin was also subtle in flavor. This is really just a filler, and I think I could've bought something else tastier for the 100.
On my second visit there, I decided to get a bento box.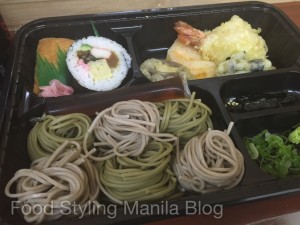 There was a futo maki, zaru soba with sauce, a sweet tofu skin with rice inside, and various pieces of tempura (shrimp, okra, sweet potato, mushrooms). The zaru soba and tempura shared the same sauce but I ran out of the sauce before I could finish the last roll of noodle. I asked them to reheat the tempura since I was eating it in the store and they gladly did. All for 180. I think it's a pretty good deal since you have all these various little bites of everything.
And for my dinner that night, I decided to take home an unagi don which was basically eel with a bit of scrambled eggs on rice (170). A small piece of hamachi (yellow tail) which is a delightfully fatty and creamy fish which is just great as sashimi (P127) and a sanma, which can be grilled whole for another time with calamansi.
Aside from all the other goodies I found in Hachin, I would definitely come back for the takoyaki and also some of their sushi and maki inside the chiller. Maybe a good idea is to have Japanese night at home and just be partially lazy and buy some of the sushi and ready fry stuff there so you can just sit back and enjoy a dinner without having to prepare so much. It's great quality food and the price is pretty reasonable.