I love finding great cheap eats here in the metro and one of the places I frequent is an area in front of Puregold Agora in San Juan: Benson's Barbeque and Tita Lulu's.
Sure this place isn't the faint of heart, and you probably won't have a spot on a usual lunch day, I like coming in at around 9 or 10, when there is a smaller late dinner crowd and both places are still open.
If you must know, for me, Tita Lulu's has the best tokwa't baboy I've ever tasted. Their "baboy" is cooked like a lechon kawali with the skin studded with blisters from the high heat. It's super crunchy especially when you eat it there, and the sauce is super garlicky & onion-y! The tofu is nice and chewy, and on some parts crunchy…and the pork sometimes has a nice layer of fat and collagen that gives an interesting texture. A plate only costs P40 and I would happily eat that with a cup of rice.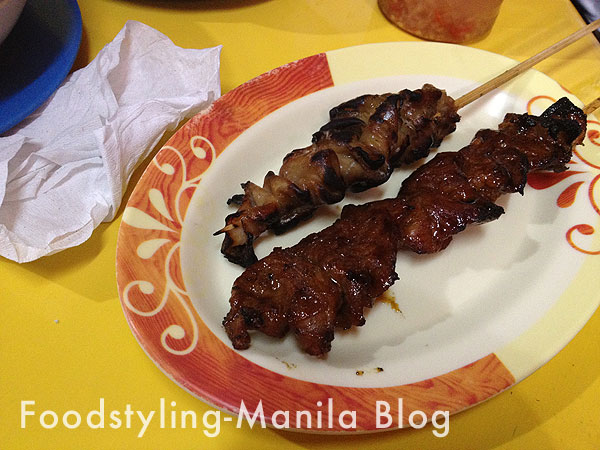 As for Benson's, they are known for their bbq's. A typical turo-turo, except that when you pick out your meats/fish they bbq it right there. They also have some papaitan without much innards, but I still enjoy the flavor especially when Mang Ben is around. He seems to keep a close watch in the kitchen and everything just tastes better when he's around.
His barbeque is really cheap, for two people, you can expect a P120 meal and you leave with a very full stomach (and man, I eat a lot). The bbq sauce is delightful! I even have it with rice! It's like your typical peanutty-sweet barbeque sauce that they used to have in my grandma's house.
A "kiampung" which seems to be just rice cooked in oyster sauce is another cheap eat in Benson's. But I just order this for the variety.They also have a pinoy version of maki, at P40 which isn't bad at all. What we do is that we bring our own coriander and roasted peanuts to complete the meal.