We finally got to eat at Yabu House of Katsu in Magnolia after enduring a semi-long line for dinner on a weekday.
What's so special about Yabu? I guess it's their sauce. You have to make your own sauce. You grind up black and white sesame seeds and a seasoned salt then you add your bulldog sauce. You do this with a ceramic mortar and a wooden pestle. Making your sauce actually adds to the build up of the hype. I guess it's really interesting to make your own sauce in these little things!
So here's what we had: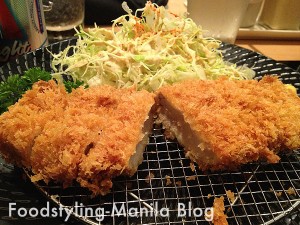 Kurobota Pork Katsu
The pork is quite flavorful but after biting into the meat it's almost texture-less. It was just too soft for my preference. I actually kind of wondered if the pork I bit into was mechanically placed together. I guess I still like a little bite in my katsu.
Rosu Curry with egg
Oh my, I liked this so much better than the kurobota katsu. Pardon my ignorance to all the kurobota fans out there, but I really enjoyed this dish compared to the previous one. I loved the texture and wonderful curry flavor with a great spice mix that I can't seem put my finger on. The sauce coated the crunchy, flavorful pork and the EGG! Oh wow it just added a richness that I could never forget. Awesome with their tonkatsu sauce. I will order this again.
We enjoyed our dinner at Yabu, but I guess next time, Francis and I will both get the Curry with Egg, because it was awesome.