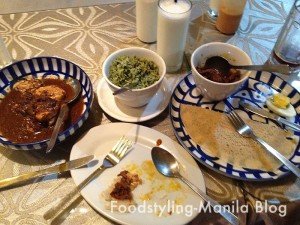 We decided to go to Ziggurat for an overload of food choices and of course, yummy food! This was Francis' first time here, I've been here quite a few times but their huge menu (literally!) can never fail to overwhelm me. I think it took us about 20 minutes to decide what to eat. Ziggurat probably has over 200 items when you think about it..their scope of cuisines cover Africa, India and the Middle East, they even go as far as regional cuisines. The place was cute, it had a sparkly Indian/Armenian feel to it, much like a scene from Arabian Nights.
Hummus. We both love hummus. If you watch Zohan, there's a running joke that they had that they put hummus on everything. I don't exactly put hummus on everything but it's pretty darn good to put on a lot of things. Hummus is made out of chickpea and tahina paste which is made out of sesame seed.
We got some lassi shakes. As part of Mediterranean cuisine, I've learned to crave for lassi. The sweet kind of course, I've tried the salty kind in other places and I always end up wanting to take the sweet kind. This one is pretty good, thought the yogurt base seems to taste a lot like commercial yogurt.
Honey Beer. Yes, I love this place just for that. There's nothing like beer made creative by mixing condiments in them. I love dark beer and the sweetness of the honey compliments the molasses and roasted flavors going on in the mug.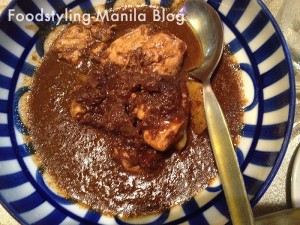 Tamarind based curry. I didn't enjoy it this much. Maybe we should've gone for the traditional stuff. The tamarind in the curry made it oddly similar to adobo.
Beef Whet. Definitely I didn't want to pass up having dinner in Ziggurat without the beef whet. I love the flavors and spices in the beef stew. The beef was tender and the sauce was just a place of herbs and spices in the mouth. The pancake complimented the stew and the eggs perfectly. I could be happy with just this one dish every time I eat here.
Coriander rice (Jordanian). It was pretty okay. I guess the nuts in the rice made it taste a bit more special.
Gulab Jamun were this yummy little bread balls soaked in syrup. I'm not much of a sweets fan but this was interesting. It was like bread pudding without the oven time. Each bite was soft then juicy because of the syrup which had a bit of rosewater in it.
Ziggurat Cuisine: Durban Street Corner Makati Avenue, Makati, Tigris, Lungsod ng Makati
Phone: (02) 897 5179