I was looking for the best place in Manila to have Italian food that wasn't too far from San Juan. And so when I plugged it in Google, I found Casa Nostra in Makati which apparently has good pizzas and hand made pasta. I was pretty impressed with the menu and so off we went!
Parking was a pain but once we were inside the restaurant, it felt like we were transported to Italy. It has nice brick and wood finish and posh looking booth seats that screamed "expensive". But the menu prices were okay for Makati prices, portions weren't too big though. So on with the food: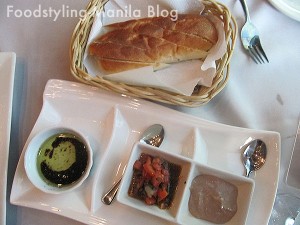 To start off lunch, there was a complimentary bread basket with 3 dips: Olive tapenade, Salsa and Balsamic Vinaigrette all added to the charm of the place. The bread was soft and warm and it made us want to head onto the main course already.
Carpaccio. I LOVE CARPACCIO. This place seems like it makes good carpaccio. To have good carpaccio, you must have good, fresh, meat…and a balance of condiments that would marry into those thin slices and turn it into a fabulous dish. The meat was nice and fresh and was topped with arugula, olives, lemon juice, capers, standard olive oil and parmesan cheese. I love the way its light and creamy (because of the meat) with tang from the capers and lime juice. The arugula imparts a peppery bite and lovely texture that compliments the tender meat.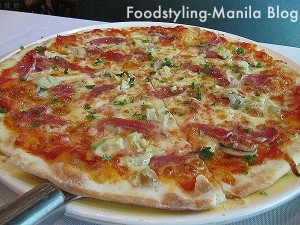 Pizza Quattro – The crust came a little underdone (meaning too soft for my standards, so we asked them to bring it back into the oven for a few more minutes) but when it came back it was pretty crunchy in some portions. I love pizzas with good flavor balance, I could really taste the smokiness of the salami on top and a hint of the tartness from the tomato sauce. I love that the flavors weren't drowning and that everything seemed honest to goodness.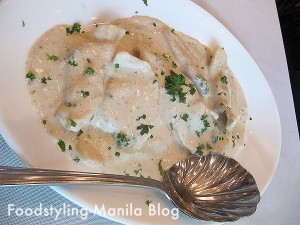 Duck ravioli – Duck rilletes stuffed in homemade ravioli with cream sauce was supposed to have truffle but I couldn't really taste it….not even a hint. This was a rich dish that made us instantly full. I would've liked the ravioli to be a little less thick on the noodle part though, I guess something like duck rilletes could've been more noticeable with a thinner layer of noodle.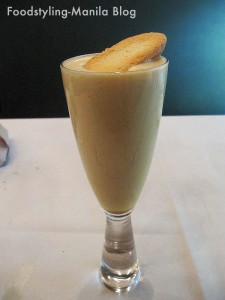 Zabaglione. It was a custard foam with liqueur. It was a little too sweet for my taste but I guess it was okay for the portion size. The foam was just right and it flowed like velvet on your tongue.
Casa Nostra is a pretty good place for Italian food here in Manila and when you go into it, you are assured of pretty good quality stuff. But I guess I have yet to eat in other places to decide whether its the best for me (coming from someone who has wood oven pizzas in thin crust and hand made pastas on a regular basis).
Casa Nostra: G/F Ecoplaza Bldg., 2305 Pasong Tamo Ext. Magallanes Village, Makati
Telephone Number: (02) 403-9854 to 55