For my birthday, Francis and I went on a short getaway to Tagaytay with Mr. Jack (my dog). It was my first time at T-House but I've been wanting to see their place since it's also a spa and my bro and I likes that place so much!
On the way there, there was a big accident, so Francis and I had to have our "lunch" in the car…which was 2 slices of cake that he gave me that morning for my birthday.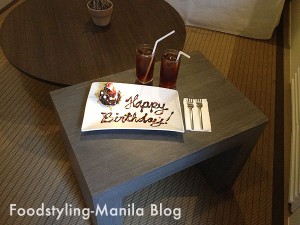 When we got to T-House, they were really surprised about the size of my dog. But maybe bec it was my birthday, they decided to allow him anyway (aside from my constant reassurance that Jack was a well-trained dog). Entering T-House, it was cold, silent, and the air was pretty fresh despite it being on the side of the road.
We took the Tranquility Courtyard room and they had a promo for 1 night with Free breakfast and Massage. The room was relatively small, but it made good use of the space that it felt more homey than small.
There was a lovely cake for me ready when we came in. Jack quickly made himself at home.
I loved the sheets. It was soft and sooo comfy! The room smelled like herbs and made me feel really relaxed.
The massage was really relaxing. Their spa area was really quiet and cool, it really got all that work stress out. We had the last massages in their spa during the night.
We bought a decent bottle of Lambrusco Rose and a Camembert with some chips at Robinson's Supermarket for our midnight snack while watching TV.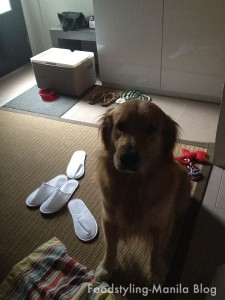 The next morning, we had our breakfast. Francis ordered the pancakes and I ordered the tapsilog. We started off with a lovely homemade bread basket with different jams and spreads.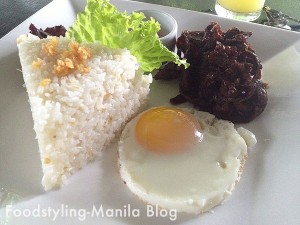 The pancakes were just the fluffiest pancakes I've ever had. And in between the fluffiness, there was dark chocolate bits and walnuts. Even if I'm not much of a walnut fan, this definitely was an exception. It was topped with some crispy bacon rashers which gave it that sweet-savory appeal. Totally something I would have again next time.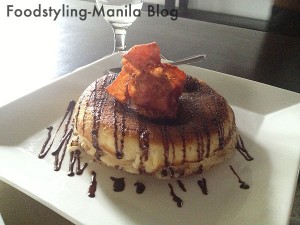 And the tapsilog was spicy and the smokey-salty flavor was just awesome with the garlic rice and the richness of the egg. This was also something I would definitely want to order again.
We really enjoyed our stay at T-House!
T-House Spa & Bed and Breakfast in Tagaytay
Landline: (02)788-7356 / (02)788-7354
3195 Calamba Road, Tagaytay City, Philippines