If you know me well, you would know that I LOVE LOVE LOVE LONGGANISA! In fact, when I go to other local places and I get to see a market of some sort, yup, I will buy the local longganisa. I just have to try them all if I could, and if you're looking for a place that will allow you to get them from several places at one…this is it!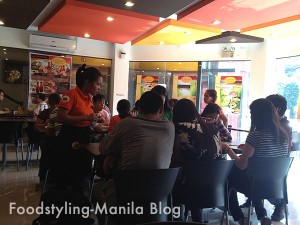 This place has 14 kinds of longganisa in their menu, but sadly, when we went there, 5 of the best ones were out of stock…so that leaves 7…still a pretty good number to work with if you're a fanatic like me. And they hava 5 kinds of vinegars (sukang tuba, sukang iloko, sinamak, pinakurat) on each table.
I LOVE LOVE LOVE NATIVE VINEGARS! I have all of these vinegars at home in fact, it's just fun to see them all in one place that's not my kitchen! Why hasn't anyone opened a place like this earlier?!
Presenting, the food: We got the longganisa platter "choice of 5 kinds or less",
and we ordered 2 sinangags with 2 sunny side up eggs (heaven!!).
CDO – it reminded me of a sweet hotdog, i liked this the least among all because of the flavor and texture.
Laoag – this was a bit sour with a bit of pepper flavor. Pretty good with rice.
Baguio – it was surprisingly a bit gamey, minimal garlic. This was not like my favorite in Baguio, the tuvera longganisa. Still the flavor was interesting.
Tugegarao – This one had a good balance of everything. It was not sweet, but it had a bit of garlic, a hint of smokiness, good meat flavor.
Cabanatuan – this one had achuete oil, and was more savory.
Adobong kangkong – and of course, I needed to eat my vegetables so we ordered this. To my very pleasant surprise it was also topped with longganisa bits! This place is wonderful!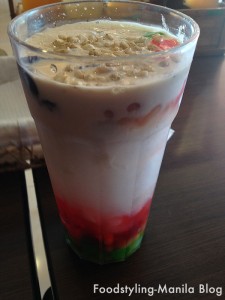 Halohalo – For a hot day it was pretty standard, it had your usual leche flan, beans kaong, etc…milk and crushed ice.
Will definitely come back for the other stuff.
Longganisa Sorpresa: CSV Property, 329 Maysilo Street, Plainview Subdivision, Mandaluyong City, Metro Manila, Philippines