We were looking for some cheap eats and saw a tiny place that was packed with people. What is the come-on of this place? It's cheap, food is good, and it's open 24 hours.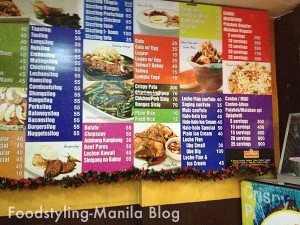 Aling Banang's has been around for a really long time. And during that long time, they have managed to expand into the different parts of San Juan, Mandaluyong and Manila. In N. Domingo, it's right by the road, where the buses and jeeps pass. And at night, the place is surrounded by some small and sleazy night clubs..
But, this is where the people were. And the turnover was fast and everyone had a full table of food. So we ordered. They have an extensive menu, with heaps of food to choose from. I decided to go safe…sisig with rice, their specialty pancit and the halo-halo ice cream one of our chefs were raving about.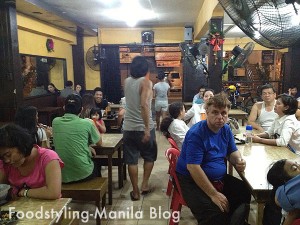 It was pretty good. The sisig was a bit cold for something served on a sizzling plate, but the flavors were pretty spot on…fatty, a little citrusy from the calamansi, some patis flavor and it was soft and gelatinous in most parts. It went well with my rice, but I wished it was served a bit warmer.
I tried the tapsilog that Francis ordered but I wasn't so into it.
The pancit palabok was really good. I liked the flavor of the sauce with achuete, pieces of shrimp, chicharon, garlic and squid. The calamansi balanced everything out.
And of course, this "halo-halo" ice cream our chef was raving about. When it came it was the first time I've seen halo-halo served this way…but this treat had the old school textures and flavors I was looking for: an icy dirty ube ice cream to replace the ice, cheese, cornflakes, haleyang ube, and some beans and other halo-halo condiments at the bottom. It didn't have milk but the ice cream took care of that flavor. This was really a good Filipino creation.
I enjoyed the experience at Banang's despite the colder than usual food. For the price and flavors, it wasn't really much of a surprise that it's packed all day, but I guess this is only for those who are brave enough to eat in the streets of Manila.