Francis took me to Alba's one night, a place I haven't gone to since high school. My grand-uncle, Brother Andrew Gonzalez, used to take us to Sunday lunch in Alba's when they had the cochinillo as part of their buffet. This was my first time in the Makati branch.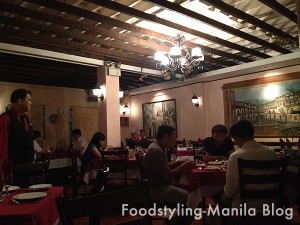 I loved the ambiance, it felt like those little tapas places in Pamplona…with less noise of course! So for the food:
Bread. The night started with these lovely soft rolls just like restaurants in the olden days (as in 80's) where they used to have a napkin lined bread basket. I loved the soft rolls.
Alba's special iced tea. I liked the flavor of this drink since it seems to have some anisette in it.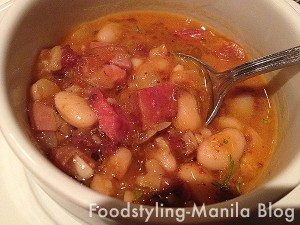 Fabada asturiana – The soup was a bit thick from all those boiled beans and the beans were perfect. The flavor of the ham bone was lovely with the stewed beans and the vinaigrette which helped cut the richness of everything.
Paella Negra. Yes, we had one paellera to ourselves. I really loved the baby squid and the aioli sauce. The baby squids were very tender and the bite of the aioli was just lovely with the squid ink rice. The paella was cooked perfectly and the lemon juice helped cut the richness of the rice and the sauce for balance! I didn't mind the ink on my lips and teeth after. It was not fishy at all.
We had a dessert like little chocolate pies, it was pretty okay.
I enjoyed our time at Alba's. It brought a lot of memories back and I loved the comforting slow cooked food we ordered.
Alba's: 38 Polaris Street Bel-Air Village, Makati