I've been so caught up with all the baking, it's ridiculous..I realized how much I've neglected my blog, and yet accumulated a vast number of new places, with pictures and notes (and lost some of them, sadly) for my blog. It's been hard to keep up, but I'm still hoping I'll have days like this one where I can actually put a bit of content in the site.
My life's been changing. But I still look forward to my freelance jobs outside. These days, my barkery takes up a lot of my time aside from the office…and when I think about it, I kind of miss summer…a reason to sort of just take off on other days and I won't have to be worrying about much about what I left at work.
Still, I do have some time to unwind. My life has changed dramatically this year and it's just been an interesting 2012 for me. Of all the new places to eat, one of them is Sonya's Garden in Tagaytay and equally interesting was my new eating buddy, Francis…who decided to take me here in the first place.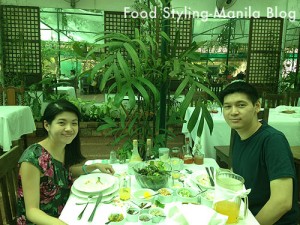 So we drove to Tagaytay and it was pretty far from the usual Tagaytay places I used to go to, but I love garden cafes, and this is one of the more famous ones in Tagaytay that I haven't tried.
When we got there, there were a lot of people in this green house like structure, with white cloth and potted plants inside. Everyone seemed to be almost done with their lunch since we got there pretty late. It was a really nice, romantic garden restaurant.
We started with the salad. Apparently, everyone gets the same meal here. I wanted to load up on my vegetables as usual. We also got a few kinds of dips with bread. Sorry for not being able to describe everything, I lost my notes on this one. One thing here is that the meal is basically eat all you can.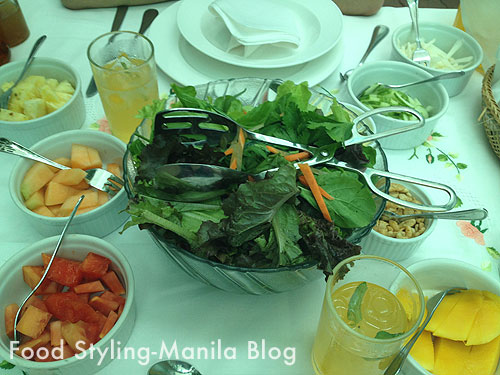 We later on progressed to pasta which had a choice of chicken in cream sauce, sauteed mushrooms, vegetables and tomato sauce. Something like you can mix them up in the way that you liked. This was pretty good, it tasted like home cooking. They also had some salmon, but since it was fried, I wasn't really into it. So I loaded up on the pasta instead.
Dessert was a moist chocolate cake, a cup of hot water with a tarragon bunch and some candied sweet potato and turon.
Overall what I liked the most about this place was the ambiance. I loved being in the big greenhouse and just being in the middle of greenery and shabby-chic-ness. The herbs and vegetables were all fresh and it was pretty much a place for chatting up and eating your greens.
We went around the lot and saw that there was a nice spa and some accommodations there. Incidentally, when we headed back to the car, I realized that I kept my lights open for the entire 4 hours that we were there and the battery died. It was a good thing that the people in Sonya's Garden were very friendly and helpful because I was about to panic at the thought that we could get stuck in the middle of nowhere…which didn't seem like such a bad thing at the time because the place was beautiful.