Apparently, Diaz Food Centrum is one of the best places to have Bulalo and Balbacua in Davao City. I didn't think the place would be right smack in the middle of the market, it was…and it was exciting. It reminded me of the times I would eat in the side streets of Bangkok.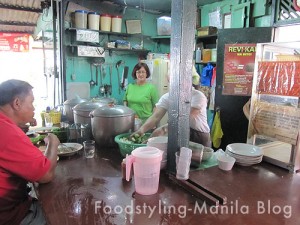 This place was filled, had a lot of people eating in it, and our table was just hungry. This place is not much to look at…it's pretty much your typical carinderia, but it's worth a try if locals are saying it's their favorite place for Balbacua and Bulalo. Here's what we had: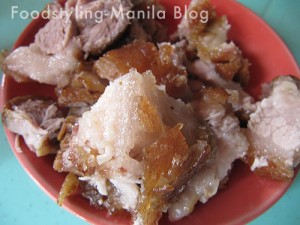 Lechon Kawali: I really loved the meat of this, and since I'm not much of a crispy skin fan, I found this good since the skin wasn't really crisp. The meat's flavor was superb thoough, I'm not sure if this pig was from a commercial farm or a home farm.
Bulalo: The broth had a very deep beef flavor, and it tasted like it was boiling for a really long time. There is a creaminess to it with a hint of sweetness from the corn. The buttery flavor must be from all that beef marrow, fat and tendons attached to the bones. It was lovely and gelatinous, the meat was so tender it melted in my mouth. It really didn't need the usual patis and calamansi sauce but doing that plus some bird's eye chili brought the experience to a whole new level…including the need for more rice and stuffing my face with food.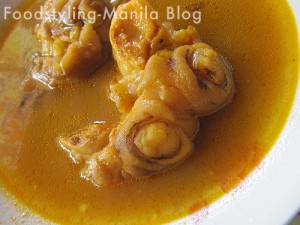 Balbacua: This was definitely something new for me. The broth tasted like butter, beef and atsuete (annato seed), which it why it is an orange soup with bones and meat. This was heavenly, and I could completely understand why the locals eat here.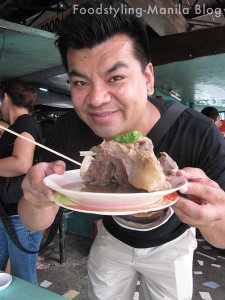 For all of us, the bill amounted to 1,000 plus…which was very cheap considering all of us seemed to eat for 2 or 3 people!
After a heavy lunch, we went off to a firing range where we met up with one of the Philippines' best target shooters (I'm not sure if that's the right term), Jongjong, who was Paul's cousin. We got up to trying different guns with different attachments and he taught us how to shoot.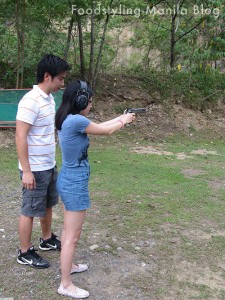 I used to shoot guns when I was in high school, but holding this semi automatic gun and firing 30 bullets per second just scared the heck out of me.
Still it was a good experience. Now I've got powder burns all over my hands.