Our chefs Toto and Aki invited me to join their family and friends for Aki's birthday weekend in their resort in Batangas. We slept in the Gonzalez Inn and headed out to the market in the morning to buy our lunch supplies which we were going to cook in the beach for Aki's birthday lunch.
The market wasn't really that interesting, but they did have flying fish for sale but it looked like a very bony fish. Still, Chef Toto did find some backyard-raised pork. There were also some octopus, tuna, squid, "espada" and shrimps.
We headed to the river so that we can ride a boat to the beach which is a place at the side of the Punta Fuego resorts. The place was clean and had little cabanas we could use for a few hundreds per day. The beach had pretty big waves and I wasn't sure I wanted to swim in it. There were lots of people in the next resort swimming too.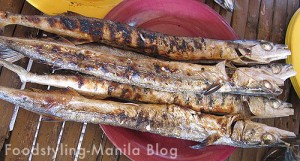 We also used their barbeque facilities to cook our lunch. We had some grilled tuna and grilled "espada" for our fish. The small tuna was pretty good but I enjoyed the white flesh of the "espada".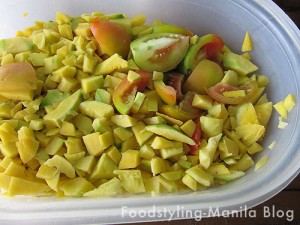 We also had some green mangoes with tomatoes and salted egg, as well as some adobong pusit which was cooked before we left.
But the best really was…this pork that was raised in the backyard. It had such a rich, creamy slightly game-y flavor…and because it was perfectly salted and grilled (basically that was the only marinade they used). It didn't need any sauce and had a great smokey flavor because it was charcoal grilled!
While everyone else was using the pool..and  I wasn't there for the pool…I mustered up the guts to lay the mat in the beach despite having almost everyone else wearing shirts and shorts in the beach. It was good, I needed some color…and I sipped my new favorite drink mix during this sunbathing time: Blue Bombay Sapphire mixed with orange soda…it was really good.