I've been a really horrible blogger. I feel guilty about neglecting my blog for the summer. It's been quite hard to sit myself down to write some articles. I think my bark-ery has been keeping me a little too busy for comfort…but in the same way, I've tried as much as possible (whenever there is an opportunity) to really put myself out there and try new things!
Which takes me to my crazy road trip #1 for the summer (and sorry this entry is late). I went with my aunt's family to Bolinao.
Looking at the map to Bolinao, it doesn't really look that far…but as we found out…Bolinao is even farther than Baguio! We drove for 5 hours and it seemed like the road was never ending. But when we got there, we were faced with an untouched and a beach full of wildlife and coral.
Thank God for my aqua boots, I was able to tread the shallow waters that had nothing but corals and wildlife in it.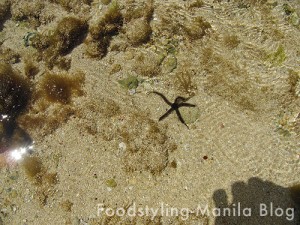 The water is crystal clear and you can find all sorts of critters like starfish, little fishes and seaweed growing on them. The sand in Bolinao is like quick sand, it reminds me of the old aquarium sand I used to use as a kid. It's very rough and you actually sink a few inches down whenever you take a step. Still, lots of people were at the beach.
And yes, trying to put myself out there only means buying live sea urchin from this girl who was selling it. It was picked from the beach a few meters off shore. Bolinao has heaps of urchins in the water, but I was too scared to even try and touch them…luckily this girl was fishing them out of the water…and guess how much she sold it to us? P5 per urchin!
Each urchin only has about 6-7 thin roes, still, this is the freshest I have ever tasted it! It still moved in my hand when it was sliced open…the roes tasted sweet…it didn't even taste like the sea…it tasted like butter and cream…full fat and yummy!
Anyway, back to the beach, there were so many people swimming. I think some of them were pretty surprised about what I was wearing, I guess I had gotten so used to other beaches that I couldn't really care less if the rest of the beach population were in shorts and shirts. I enjoyed myself and kept busy walking and looking at wildlife. The resort we stayed in, "Treasures of Bolinao" was pretty standard…room was big with an okay bathroom. Just simple amenities.
The only food I really enjoyed in this trip was the breakfast. They had real Alaminos longganisa and awesome daing. The alaminos longganisa was garlicky and tender, and had these little toothpicks stuck to it. I also liked the dried fish.. it was dried but it still had a lot of meat. The rest of the food we had isn't worth writing about.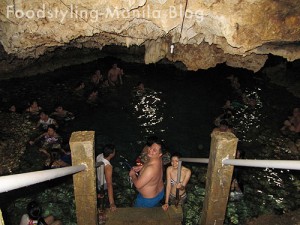 We went to a cave where people were allowed to swim. The mountain that had the cave had these coral like rocks on it, which means that it was underwater maybe a few million years ago. Usually I'd back off from this sort of thing since there were heaps of people in one swimming hole…but I went in anyway.
How could I try new things if I keep hesitating right? I'm glad I did. The water was cold and I actually had a hard time swimming because it felt like I was sinking a lot. From Bolinao, we drove to Alaminos to get to Hundred Islands which is my next entry…