My bro decided to head to Hoseña's Bulalo near Kalentong to have some Bulalo of course! It was tucked on the 2nd floor of a building, on top of a bakery. Hmmmm…
The place was warm, small but seemed to have a brightly lit menu with about 30 items…don't let this fool you folks, most of the items aren't avaiable anymore…the only things they have are rice, bulalo and the litid (still bulalo). Crazy huh? And yet if you come at the wrong time (like we did!) we were left with just one giant bone to share among ourselves, because they had run out. And people were still coming in after we've ordered and eaten, mind you.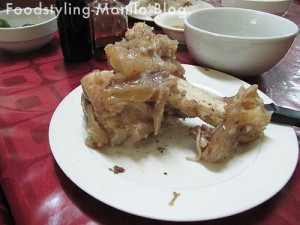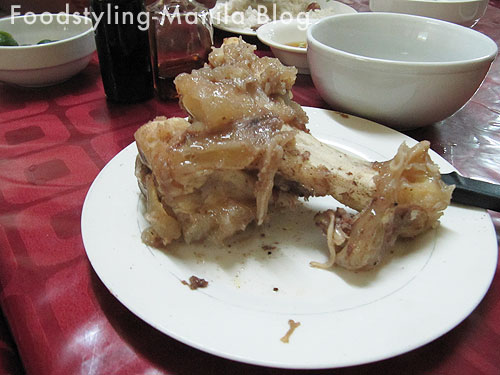 Yes, the bulalo was good. The soup was beefy and buttery (from the fat I guess) at the same time. To be honest, I still like the good old fashioned, take-it-off-the-bone myself in terms of the beef, but it came in a small bowl in little slices.
The litid, came as a giant bone with tendons stuck to it. The tendons were really soft and gelatinous. This was definitely a man's meal…no veggies, just rice, soup, lots of beef and tendons, but I enjoyed it.
After that quick trip, we were all stuffed! I think my brother paid a little less than 140 per person for all the stuff that we ordered (8 rice, 4 regular sized bowls of beef bulalo and 1 litid). It wasn't bad, though I still enjoy the variety at R&J…if you don't mind the singing.