Mig and I went for a long drive during New Year's day and the road took us to the Hobbies of Asia Mall in Macapagal. I wasn't quite sure why they call it Hobbies of Asia..there were a few closed pet shops and Mig and I wanted to eat a few different things for dinner, it was a good thing we were in the right place and right parking because we were about to enter Yaki Mix when we saw a bustling hotpot (at 5:30pm!) and it looked like they didn't have your usual soups!
And we were very glad to find this place. King One Rotary Hot Pot's broth selections are pretty good, but the best part about it is that it's eat all you can, and if you sit in the right place, you can actually grab your *cook-ables* right beside your table (where the actual conveyor belt is!) we went for the Satay (which was supposedly their best seller) and I took a dive on the Szechuan Pepper Broth.
Both broths smelled amazing, but I had a feeling I would enjoy the Szechuan so much more. It reminds me of some real shabu-shabu we used to go to in Thailand. The Szechuan pepper broth smelled very aromatic and almost flowery, but you knew that it had a good kick to it because of the floating chilis. The Sate soup might be their best seller maybe because it's the most diplomatic. The flavor isn't as exciting as the Szechuan pepper, but the sate is pretty prominent…I just have one thing to say…when they refill the pots with water, the flavor isn't as prominent so enjoy the first boiling.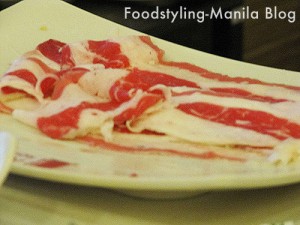 The sauces were limited but you hardly needed any sauce because the broths flavored the boiled items pretty well. Mig and I also tried out their juices. They were pretty cute and tasty. Mig had the lychee with jello and I had the green tea and lemon which had lime flavored "bricks".
Vegetable selection is okay. I loved the fact that they had watercress, it was just lovely to blanche it and have it with a bit of soup. There were tomatoes, squash, spinach, kale, chinese brocolli and kankong available along with different kinds of mushrooms and tofu.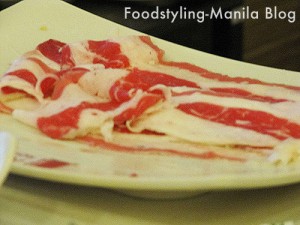 Meats were served in bulk, they were quite fatty, but still, they were great with any broth that you may choose. They even have beef or pork wrapped mushrooms, which is usually grilled but it was quite a treat as a boiled item.
The best things I ate in this shabu shabu are the watercress, polunchay, tripe (which were preboiled and came out tender) and the prawns. The prawns were very sweet and crunchy! I also liked their version of the fresh meatball stuffed with cheese. Pork blood always has a nice texture. They also had an interesting pork blood with glutinous rice squares which is boiled thoroughly in the broth…it was quite filling.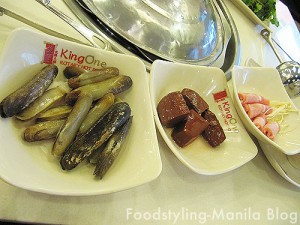 By 6:30pm, the place was getting really packed. This seems to be a favorite hang out of the Koreans who live in the area. We even got to order a bottle of soju with our meal. Looks like it's going to be a flavorful 2012 for me!
King One Rotary Hot Pot
M2A Lower, Hobbies Of Asia
Pres. Diosdado Macapagal Blvd.
Pasay, Metro Manila, Philippines
Phone Number
(+63 2) 556-1370, (+63 2) 556-1827