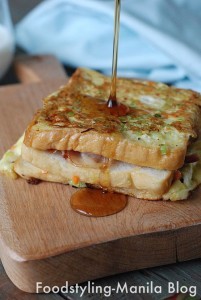 I've finally found a great do-nothing Sunday to catch up on my home cooking and styling work and decided to do something "for two" since it's almost Valentine's day. For a very special toast, it had to have everything nice…it had to be decadent…and something you can share with that special someone, and yet easy enough to do. I totally love french toast, but instead of the usual just sweet component, I decided to add a bit of savory and favorite breakfast food inside: bacon and cheese. This version is made with cream cheese and grated cheese. It only takes a few minutes to make and is big enough to share.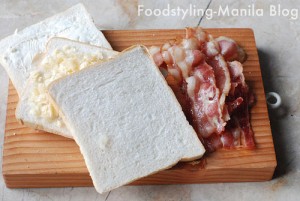 A Very Special French Toast
1 egg
1 tbsp cream
3 slices of white bread
1 tsp minced carrots
1 tsp minced celery
Pinch salt
1 tsp cream cheese
1 tbsp grated cheese
2 tbsp butter
1 tbsp butter
6 bacon rashers
1/4 cup water
In a nonstick pan, Cook the bacon rashers in water until water evaporates. Add 1 tbsp of butter and cook till crisp.
On the first slice of bread, spread the cream cheese. On the next slice of bread, add the grated cheese. Top the 2 slices with the bacon and add the 3rd slice on the top and gently press.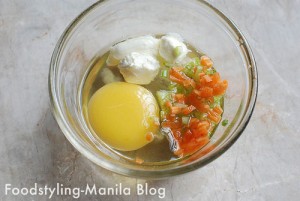 In a bowl, beat egg, carrots, celery, cream and salt. Heat the pan and add the 2 tbsp butter.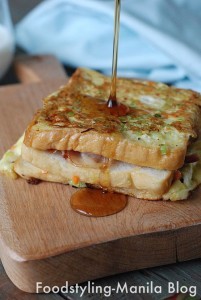 Dip the triple decker sandwich in the egg mixture until all sides are properly coated. Put the sandwich in he preheated pan and cook for 1 ,minute until golden brown. Add remaining egg mixture in the top of the bread while on the pan. flip the sandwich and cook the top side. When the top side is golden brown,  slightly cook the sides of the toast. Remove from heat and serve with your favorite jam or maple syrup.