I love markets. I really don't mind the dirt and muck on my shoes, the smell, the thick amount of people…but one of the best things about the Baguio City Wet Market is the fact that it hasn't changed much through the years. Our favorites seem to be in the same stall…but on a yearly basis, there are always some surprises…like new produce…more fresh stuff.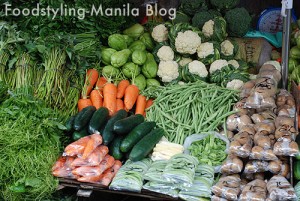 The Baguio Wet Market starts from the street. A big sloping area with the meat on one side and some dry goods and veggies on the other…then it merges. I'd like to show you some of the things I saw on the road side of the market.
We began buying our vegetables from the roadside stalls. Being in Baguio, the "salad bowl" of the Philippines, vegetables are pretty cheap. Actually when you think about it, food is generally cheap. One of the things we bought in large bundles were the watercress we were going to cook in different ways for the days to come.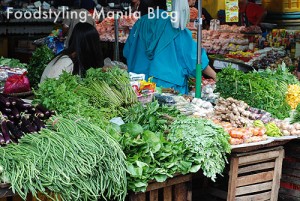 They had small leaves, and they looked so crisp. It only costed us about P25 per bundle…that is 1/8 the price of watercress in Manila…and the quality! Oh what quality!
Our next favorite stopover is of course, the Tuvera longganisa. I've been eating this longganisa since I was a kid. A longganisa is basically a sausage, slightly fermented. We like this one because of the achuete oil and tons of garlic it has. My brother bought some for our breakfast.
We also came across a "sausage section". I just had to have my picture taken since I was literally surrounded by sausages, haha! We didn't buy anything here though, we are loyal customers of Tuvera already.
Then, before the dry goods section we found some dried fish. Though these generally stink, this is absolutely great simply fried and served with rice, some tomatoes and salted egg. We bought the "espada" which is a sharp and quite bony fish, but it was delightfully crisp.
I'll be posting part 2 in a couple of days. For the meantime, you can enjoy these pictures. 🙂