Now we go to the usual dry section of the Baguio Wet Market, this is where everyone buys their pasalubong and fruits. A lot of people buy veggies here too (for those who never stray into the deep dark wholesale veggie section). There are a lot of things to see and a bigger space to walk through.The greenish hue from the roof is a little irritating though, it makes even your skin look green.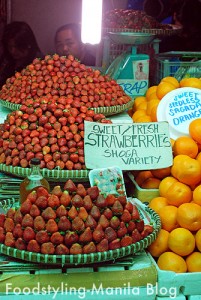 Here we find the usual strawberries, sagada oranges as well as other curiosities like sundot kulangot, jams, halayang ube, little pastries, all packed and ready to be given to friends and relatives back home. There are also special items such as habanero peppers, an organic vegetable cooperative and rattan fruit (which is has a snake like skin!).
Go deeper into the market and you will hit some rice and more dried fish sellers. There are also some vegetable vendors selling via "tingi" or retail. There is also a great coffee store in this area, and people really do line up for some fresh or ground up coffee. They even have civet coffee too!
Apparently, the Baguio Wet Market has a name…it's called Hangar Market, and the roadside veggie section you see at the opening is just the tip of the iceberg. Before you get to the REAL wholesale veggies, you have to pass through the dry goods section, the meat section, another dry goods section and then you come into this dark marketplace with the old sign that says Hangar Market, Vegetable section.
If you want to see tons of vegetables, you go here. Each store has several kinds of one vegetable, like cherry tomatoes come in round and oblong sizes. They were really sweet and was great with our breakfast and salads.
Mig bought some vegetables to bring home since he enjoyed the variety and the wholesale prices in there. The place was dark and dingy but it was well worth the walk.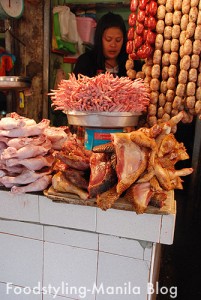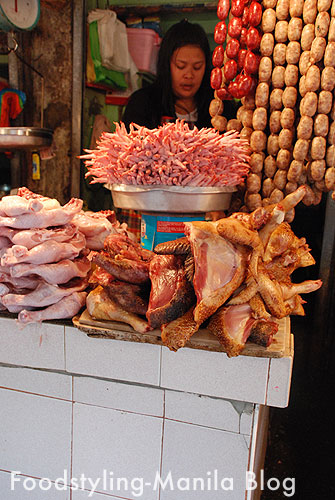 Going back to the main area, I was able to catch a glimpse of a culinary heritage in Baguio, the pinikpikang manok. I don't even want to explain how this chicken got this bloody, but it is a part of ritual and culture, and it is one of the things the Benguet area is known for. I have yet to taste one, maybe next time.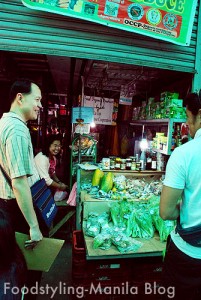 Even if I take all the pictures, it doesn't do justice to the variety and interesting things i saw in there. Most of the time, I was so busy looking that I wasn't able to sneak a shot. Baguio Wet Market truly is a great place to get to know the rich vegetables and food found in our country (and in the greatest quality as well!).