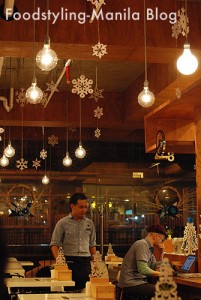 Nice organic looking place with brown black and white furniture, a semi open kitchen. I probably went in with high expectations, only because the last time I ate in ramen place was in Sydney, in a place called Ryu ramen with my bestfriend Ana. So here's what we had:
Squash blossom tempura – this crisp on the outside and fluffy on the inside had a ground up seafood mixture inside. It almost reminded me of some shrimp and a seafood ball that's chunky. Sauce was your typical sweet chili…I am sort of looking for an extra cilantro flavor on the sauce that could've livened up this dish a bit more.
Ox tongue with chili tofu – broth was a bit more fragrant than the nomama ramen which I liked.  Chili was on a good level, just enough to capture the heat at the back of my throat…I love the fat level of this by the way, it creates a velvety texture when the soup hits my tongue. This one I Liked much better than the one that carried their name, I actually think the ramen egg would work this broth too to take it up another notch, but that's just my opinion. I love love love the tenderness of the tongue! Giant portion.
Prix fix menu
Beef tataki with chips – nice with flavors of chili garlic and fermented bean. Though i can no longer taste the beef (wagyu sirloin). Chips were a great sweetish complement to the overall dish that is further "greenified" by the alfalfa sprouts. Tiny portion.
Nomama ramen- finally!someone has the darned guts to serve some properly made ramen egg. I've been looking for this for quite a long time and I probably just haven't hit the hardcore Japanese ramen bars here in Manila but finally I've found one that does. But the ramen egg did look properly made, but it was marinated in a mere soy sauce brine (sorry guys I've got high hopes for ramen egg, you should try Yamagoya in Bangkok…they've got some fine eggs going on there), I was hoping for the zing of sake and mirin since it looked like it was done well to start with. Ramen broth was quite nutty, noodles were done well still a bit chewy. Smokey notes fromthe nori. Pork was not really tender, which I had expected it to be, but I guess you can't really do much about it if the pork was locally produced (unlike the infamous Kurobuta), the fat was pretty sift though, but that's expected. Giant portion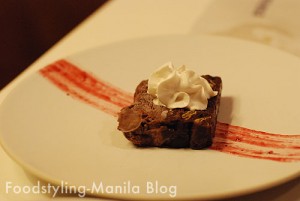 Kitkat bar – tiny portion. It seemed like a mere sliver. Chocolate wafer and caramel bottom, chocolate ice cream top. Yummy and rich, small portion seems just right for someone like me (not into sweets).
Xiaouen tea – served in a cute little clear teapot. This tea was wonderfully fragrant it smelled of apricots and peaches…it was like being transported to a peach gathering truck. The smell was amazing, and the flavor was subtle and yet bursting at the same time.
I liked my time at Nomama, I'll be back for the Ox Tongue ramen. 🙂
Ground Floor FSS Bldg 2, Scout Tuason cor Scout Castor St.,
Quezon City, Philippines
Phone # 5422558