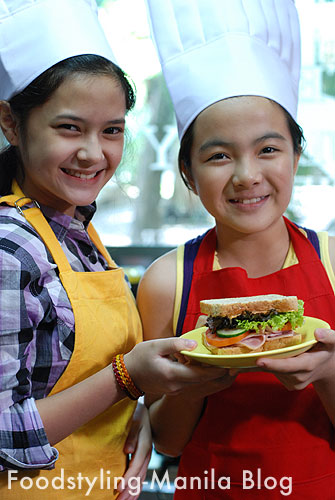 I was able to do some work with GMA's kiddie show, Tropang Potchi…where we did some fun edible food styling projects for kids at home. This was the perfect opportunity to test out some funny looking food and the challenge to make it edible and good for kids.
So we did a small open faced sandwich but the kids had the liberty to get their creative juices going to make a delicious and fun looking sandwich. It was pretty easy for the kids to make some faces on their food and edible little works of art.
I made this pig out of rice, corned beef, some cucumber, tomato and raisins. It actually turned out better than what I had thought, it tasted pretty good too.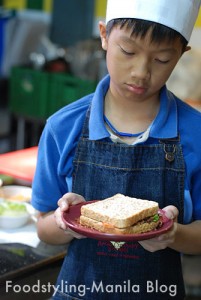 Lastly, we had to do a demo on how food looks so much better in commercials than they usually are in real life. So here's the unstyled edible sandwich, vs the styled inedible one (sorry guys there's tissue in there!).
It was a pretty interesting first to work with kids on TV. Considering that my first ever food styling stint of almost 4 years ago was a kiddie cookbook with how to pages and product photos.