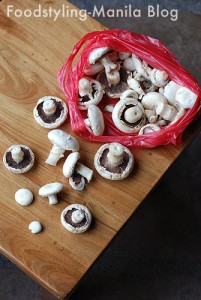 Upon seeing the great quality produce in Baguio, I decided to take some pictures of them. I still wish that produce in Baguio would be just as accessible here in Manila.In fact, all the wonderful produce in Baguio can almost always be eaten fresh just after some thorough washing. I just stayed by a window's side without any reflectors, found a small table and was ready to shoot.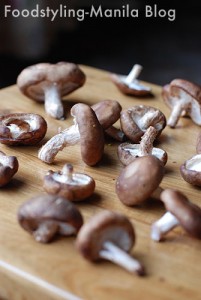 Button mushrooms come in all shapes and sizes. When I was young, the only mushrooms I knew came out of a can…today, we can have them all fresh in Baguio. I was so into taking pictures of the mushrooms that I decided to nibble on them…it frightened my brother but nothing happened to me.
I love the vine ripened tomatoes here, the sweetness is unmatchable with the kinds we have in Manila. Baguio really is a great place to plant anything and since farm-to-market doesn't take very long, it allows farmers to let the produce ripen up to the time it's really supposed to be picked.
Chai Sim…or chinese cabbage here is so fresh, it has flowers. And yes, you may eat the flowers. They have a nice peppery flavor similar to arugula. We topped this on one of our salads at one night.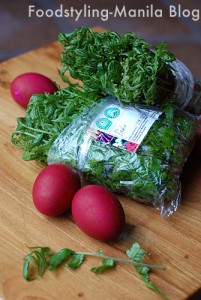 Pako or our edible fern is just great as it is. It's exotic mouthfeel and delicate green flavor perfectly matches foods like salted eggs, tomatoes, fish sauce and our native calamansi. And the pako here is nice and green…hardly ever dry and wilted not like the ones we get here at farmer's.
I really hate scaring myself silly with all the horror shows and stories we shared in Baguio, but the produce was just too amazing to pass up.