On our Halloween Spookfest in Baguio, the group decided to go to the usual PX stores of Camp John Hay but on the way there, we decided to have a little snack in this whimsical place that looked like a smurfs village, it was called: Chocolate de Batirol…the traditional way of making hot chocolate here in the Philippines..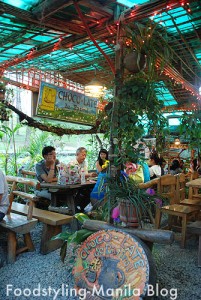 There were a lot of people, everyone with a cup in hand, kids, men, women, elderly…everyone. We took a seat in this lovely, outdoors-ey setting with plants, wood and greenery all around.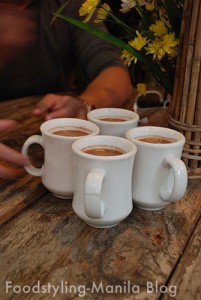 We ordered the sets that save you a few pesos, but I wanted to try the "Baguio Blend Chocolate" while Mig and the rest went for the Traditional Blend.Traditional blend is a very chocolatey but low sugar treat. Definitely something for the young and old. Tastes like something grandma made. Peanutty, chocolatey and with a slight smokey bitterness. Baguio blend has a very slight hint of strawberry. Smells slightly of strawberries, but obviously is still partly the traditional blend. All their chocolates are not served sweet so I went and had a bit more of brown sugar on mine.

The suman is nice and soft with muscavado sugar and coconut. It's was very fragrant.
Turon tastes like it a bit of caramel and chocolate at the top. Seems to be freshly made to order.
Bibingka is very soft and moist. Has the nostalgic hit of margarine and some ground coconut on top.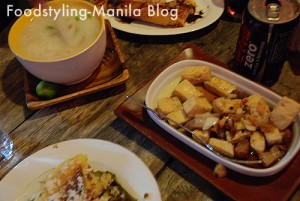 Tokwat baboy has a good sauce. The vinegar tastes quite sweet. Tokwa is crisp on the outside and chewy inside, a great texture contrast to the pork which is gelatinous. It was a homey pairing with the goto that China ordered.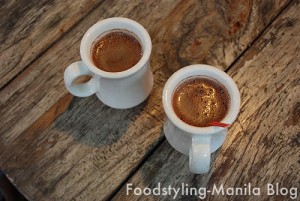 Chocolate de Batirol is a nice place to sit back, relax and enjoy the greenery. You may want to put some bug spray on and be ready to be very close to nature. In fact, you shouldn't be surprised if there are some spiders listening in on your conversation. The colored wood pieces make the place resemble an artist's house. Definitely a great place to chill, relax and enjoy the cool Baguio weather with a cup of hot chocolate.
Chocolate de Batirol is in Igorot Garden, Camp John Hay, Baguio City 2600 Philippines