Nestled in the middle of a couple of girly bars is a grill place called Super six that looks a lot like a Thai hawker in Bangkok. It was right in front of cowboy grill in the middle of malate.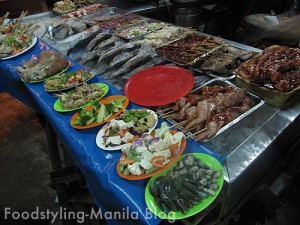 The grillables are all displayed outside, their grilled items range from only 25-65 per stick and even if we were slightly hesitant at first, a new food exp like this would only mean adventure. If things headed south with the food (from the way that the place looks) we could always drop by SSC.
We picked out tomatoes wrapped in bacon, chicken leg, heart, liver, pork in garlic BBQ and chopseuy. Definitely not for the faint of heart or stomach, this looks a lot likes carinderia…but it was highly recommended by my friend Samson who seems to be a great fan of food.
Chopseuy was quite homey. It had bits of pork pata which I like. I liked it because it was seasoned well and reminded me of home cooking.
Favorites:
Bacon wrapped tomato – totally liked this. It was so simple, but the bacon fat, salt and pepper was just divine with the slightly tart and sweet tomato. I am definitely going to do this at home.
Chicken heart – The chicken hearts were cooked just right. It was simple but awesome with my pale pilsen.
Garlic pork BBQ – The garlic pork bbq was very interesting. The pork was just covered in garlic and it kind of reminded me of samgyupsal except this one is smothered in garlic.
The experience was pretty good. It's nice to think twice sometimes and end up pleasantly surprised. One thing is for sure,this is a good place to drink. Pulutan iss cheap and sells by the stick
7 sticks, a chopseuy, 3 rice, a chicken leg, a coke zero and 3 pale pilsens later…our bill was only 435.
Super Six Grille: 475 Padre Paura, Cor. Mabini MH Del Pilar, 1026 Malate, Philippines