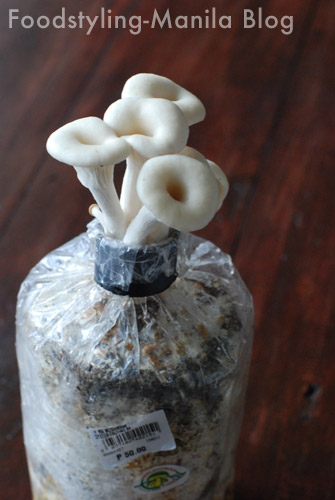 If you haven't read Part 1 of this, basically I am all excited about growing mushrooms especially when I acquired a mushroom fruiting kit from Melendres Farm at SM Hypermarket.
So when the mushroom began to grow so large that it started to bend, I accidentally pulled it out of the plastic (this was like abortion, premature harvest). Since I couldn't put it back, I decided to make something out of it…the simplest recipe I could think of: Buttered Mushroom.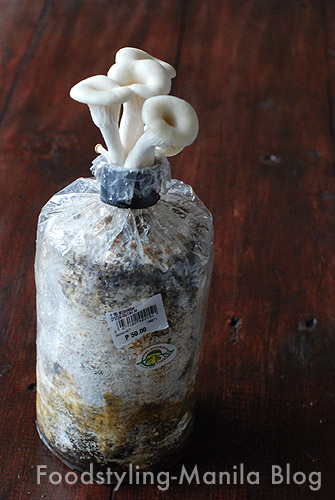 So I brushed off some of the dust from the mushroom but ended up dipping it in some water just to be sure. I separated it into it's individual caps and heated some butter, put it in with a bit of salt and pepper. Voila…after a couple of minutes it was done. I tried to make it a bit underdone so that we can really taste the flavor of the mushroom. The caps were pretty good and the taste was nice and characteristically "mushroomy"…but the stems were bitter! Then I started getting the sinking feeling that I might have eaten a poisonous mushroom, although logic would say that it's not since it was basically an oyster mushroom. It just made me wonder, why were the stems so bitter?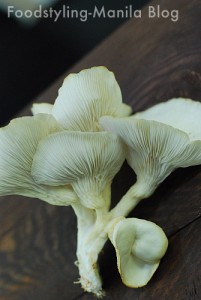 It reminded me of that time I feared for my life for 24 hours, because I decided to eat some mushrooms I found in the garden…and it was a pretty creepy feeling indeed. Some people have become so sick from eating wild mushrooms in the Philippines since they had no idea how to identify the poisonous ones from the edible ones. Thank God I was lucky…I will never do that again.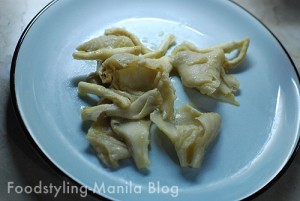 Now my mushroom fruiting kit is back to zero. I saw some little white sprouts coming out lately but it takes quite some time to grow, and it wasn't as fast as my 3-day experience at first.  In the next couple of days, I will be patiently spraying the kit with some water…Hopefully, this won't be the end of this kit.