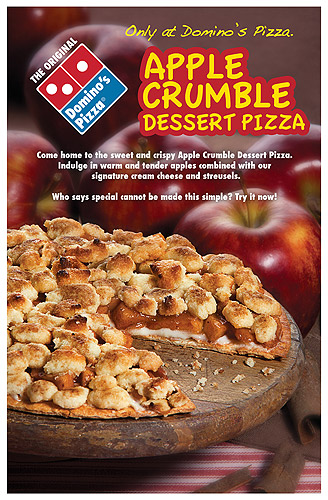 I'm glad that I was tasked to style a very unique pizza Domino's is launching this month: Apple Crumble Pizza.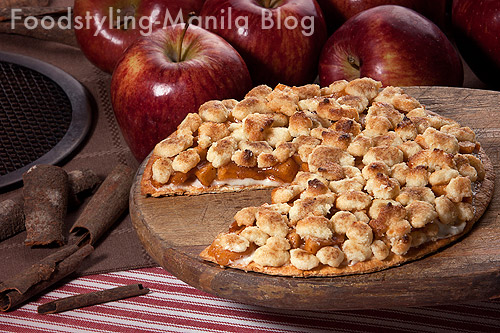 Basically, we used the same ingredients and size of the pizza as the actual. Because we had to show the apples, the photo called for a slice out to show the apple filling peeking through the crumble. Basically, I just picked out nice shaped apple fillings, good shaped crumble, slightly baked the pizza and voila! We added some apples in the background to help show that the insides are made of apples.
The shoot was relatively relaxed, we had a nice lunch after. But since we couldn't just eat sweets for lunch, Ms. Issa brought out a thin crust Magherita Pizza and a Meatza, both thin crust. I loved the Magherita's refreshing taste thanks to the fresh tomatoes and basil on it. And no, the basil didn't get charred during the cooking process.
The Meatza was also noteworthy for barbeque addicts since it had a nice sweet, spicy and smokey barbeque sauce. Of course, the crust was still fabulously thin. A great end to the shoot! This is what I really love about this job: meet great people, get challenged and eat different kinds of food!
They also sent me an Apple Crumble pie to take home. I immediately jumped at the opportunity to take pictures with my new surface since I haven't had much time to develop a recipe post at home. The Apple Crumble truly is for a sweet tooth – the cream cheese, apple filling and crumble are really for dessert, I think I would enjoy mine better with a good helping of pizza cheese (i ? cheese on my apple pie, it gives a nice salty balance that I think only a few enjoy), hopefully the guys at domino's will accept this custom add on. I wasn't able to get a copy of the production photo huhu.